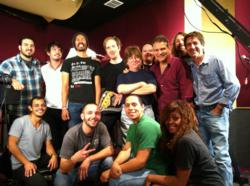 (PRWEB) June 23, 2011
Studio City Sound (SCS), the legendary recording studio whose clients include; Rod Stewart, No Doubt, Eric Clapton, Weezer, and Blondie among others, has recently launched a weekly live webcast, streaming live video, and bringing state-of-the-art studio sound to a webcast. This week's eclectic group of performers includes Rumbankete, a thirteen piece Salsa Orchestra and Love Grenades, the music project of Elizabeth Wight; a singer-songwriter who blends classic new wave pop sheen ala Blondie with the modern electro touches of Bat for Lashes.
On Friday, June 24th starting at 2 p.m. (PST):
http://www.ustream.tv/channel/studio-city-sound-live
2:00 p.m. - Love Grenades
4:00 p.m. - Josh Stevens & Speratic of Big Bad University
5:00 p.m. - Mr. Squeeze and the Medicine Men
6:15 p.m. - JayaR
7:00 p.m. - Israel Heller
8:00 p.m. - Rumbankete
9:00 p.m. - Caroline Brooks
10:00 p.m. - Good King Friday
Studio City Sound is owned and operated by Grammy-Award winning mixer-producer Tom Weir. A world class recording studio, SCS is now also a multi-camera production facility that offers live streaming video to artists, as well as professional mixed and edited videos ideal for Youtube, DVD, broadcast, and elsewhere. Artists can stream recording sessions live so that fans can watch while albums are being created, providing instant feedback to their favorite performers.
Future performances will feature co-broadcasts with international artists streaming live from studios including, Propeller Music Division in Oslo, Norway and Frenzi Music studio in Hong Kong, among others.
SCS is well-known for offering the grandeur of a great old-fashioned studio in this historic space where so many great musicians/bands have been recorded, mixed, and mastered, combining the best of Pro-Tools and digital recording with classic vintage audio equipment, for unmatched richness and depth of analog sound.
Contact: Estelle Harrison 818-505-9368 or eharrison(at)studiocitysound(dot)com
# # #