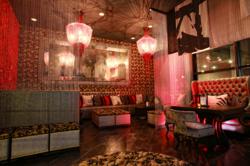 We were just designing out-of-the-box.
Los Angeles, CA (PRWEB) June 28, 2011
When Ana Maria first stepped into the Hotel Huntington Beach Rouge bar lounge, it was dull, boring and unimpressive. Using her creativity and skills, Ana Maria and the hardworking team of Pacific Hospitality Design has turned the place into a one-of-a-kind amalgamation of French elegance and Chinese allure. Rouge Bar has now become a place that will tempt Huntington's visitor to visit, appreciate and take pleasure in.
Pacific Hospitality Design, Inc., a furniture manufacturing & design company, has recently redesigned the Rouge Bar at Huntington Beach Hotel. It is a universally accepted fact that the overall theme and appearance of a room greatly affects a person's mood and appetite. When it comes to designing furniture and space, hotels and bars go for a theme which is warm, exciting and inviting. Taking inspiration from the eastern and western cultures, the PHDesign team has completely turned the bar lounge into a place worth visiting.
The transformed Rouge bar lounge presents a very unique fusion of Asian and French elements. When asked about this unique cross cultural theme, Ana Maria Martinez-Stumpo, the vice president & furniture designer of Pacific Hospitality Design said, "We wanted to keep it unique,striking and dramatic . That is why we picked out some elements of elegant French design and mated them with bright and vibrant elements of Chinese design and architecture. We understand that there is an obvious contrast between the two styles, and that's the beauty of it."
The PHDesign team has used elements in both the furniture design as well as the space. The overall theme is monochromatic in ranges of gray, silver and black. This color scheme is accentuated by using contrasting bold colors such as Red and Yellow. The most apparent example of French-Chinese fusion is seen in the furniture design. "You can notice some classical French details such as usage of diamond tufts and toile, yet curves and prints are clearly Asian-oriented," adds Ana Maria.
PHDesign team has implemented some of the most creative ideas in designing the space. One of the most prominent examples is the usage of handmade Chinese boxes to decorate two walls. Almost 3600 handcrafted boxes are used to create this truly unique piece of art. Speaking of what inspired them to come up with this idea, Ana Maria jokingly said, "We were just designing out-of-the-box.
All the furniture including chandeliers used for decorating Hotel Huntington Beach Rouge bar lounge are designed and manufactured by Pacific Hospitality Design.
About Pacific Hospitality Design, Inc.
Pacific Hospitality Design is a Los Angeles, CA based manufacturer specializing in furniture development from concept to production and is the 1st U.S. Custom Furniture & Furnishings Manufacturer to Receive the Coveted Made in USA Certification.The company is currently run and operated by Gilbert Martinez and daughter Ana Maria Martinez-Stumpo.
The company designs and manufactures wooden, upholstered and metal furnishings. PHDesign offers its products and services to the hospitality, restaurant, private labels, high-end homes and many other industries.
For more information, please contact using the following details.
Ana Maria Martinez-Stumpo
Telephone:323-278-7999
Fax:323-278-9930
Email:customerservice(at)phdesign(dot)com
Facebook:http://www.facebook.com/PHDesignInc
Website:http://www.phdesign.com
# # #