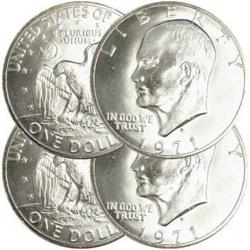 Montpelier, VT (PRWEB) June 24, 2011
We like IKE – as in Eisenhower dollars. That's why ICCoin is offering collectors a 2-for-1 special on silver Brilliant Uncirculated 1971-S issued Eisenhower dollars. For a limited time, collectors can buy one Eisenhower dollar for $29 and get the second free.
The U.S. Eisenhower dollar stands out among United States and world coins. It commemorates President Dwight D. Eisenhower who died in 1969 and the Apollo 11 moon landing that occurred in the same year. This is reflected in the coin with Ike's image on the front and the Apollo 11 emblem ("Eagle on Moon") featured on the back.
Issued in 1971, the U.S Eisenhower dollar marked the end of a 35-year hiatus for the traditional-size silver dollar. It later became the first dollar coin not to be struck in a precious metal but rather a copper-nickel composition. Eisenhower dollars have become popular with collectors in recent years due to the large size and affordable price for high-grade Eisenhower dollars.
Now through July 31, you can collect two U.S. 40% silver Brilliant Uncirculated Eisenhower 1971-S dollars for only $29. Order online at http://www.iccoin.com or visit for coin collecting resources.
About ICCoin
International Coins & Currency, Inc. was founded in 1975 and, over the years, has proudly satisfied hundreds of thousands of collectors. With one of the largest mail-order and website coin selections anywhere, ICCoin provides a world of coin collecting options, including international coins, classic and modern U.S. coins, and seldom-seen scarcities and fascinating oddities. Collectors can visit http://www.iccoin.com to buy from ICCoin's huge selection of competitively priced items. Committed to providing "the best service in the business," ICCoin offers a 100% satisfaction guarantee on every item it sells, including coins, currency, supplies or other collectibles.
###