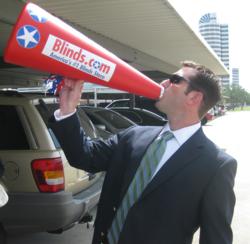 Our culture is... the reason for our success.
Houston, TX (PRWEB) June 27, 2011
For the first time ever, America's largest online blinds retailer and Houston's largest e-commerce company has been named the Best Place to Work in Houston, TX (100-500 employees) by the Houston Business Journal.
Blinds.com ranked 6th last year in the small business category. In spite of the recession, Blinds.com increased their workforce by more than 30%, moving them into the medium business category. Blinds.com got highest score in their category, and the second highest score overall for all winners combined.
"Our culture is the most amazing thing about Blinds.com, and the reason for our success," said Blinds.com founder and CEO Jay Steinfeld. "That we've been recognized among so many other great companies in Houston is a huge honor. And we're still hiring!"
The survey and award program was designed to identify, recognize and honor the best workplaces in Houston, companies that benefit the state's economy, its workforce and its businesses.
Award winners are determined by an anonymous survey completed by employees to measure their experiences and find out what they really think about their companies. Judging also includes evaluating each nominated company's workplace policies, practices, philosophy, systems and demographics. The combined scores determined the top companies and the final ranking. The 2011 award program recognizes small-sized companies, medium-size companies (100-500 employees), large-size companies (more than 500 employees), and companies not headquartered in Houston, but with a large Houston contingency.
Blinds.com was founded in 1996, and was the first company to sell blinds over the internet. CEO Jay Steinfeld began the business in the garage apartment of his home in Bellaire, TX with $3,000 and no employees. Blinds.com has since grown to employee 115 Houston-area residents and to sell well over a million blinds. Still privately owned and operated, Blinds.com has risen to #203 on Internet Retailer's list of the top 500 websites in the United States and won Marketer of the Year and Call Center of the Year. Jay Steinfeld is also an Ernst and Young Entrepreneur of the Year. As it grows, the people at Blinds.com continue to fulfill their mission and stay true to their three core values: to wow every customer, experiment without the fear of failure, and to continuously improve.
About Blinds.com -- Blinds.com is America's leader for custom blinds, shades, shutters and draperies. They offer huge savings on high-quality, custom window coverings including window blinds, shades, plantation shutters and draperies. Blinds.com Design Consultants are experts and have an average of twelve years experience helping people with blinds. Blinds.com is committed to their customers and offers a complete Satisfaction Guarantee. Go online to http://www.blinds.com to shop or call 1-800-505-1905 for Internet prices.
###