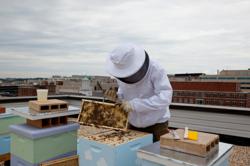 "This urban apiary is a natural extension of Founding Farmers' mission to minimize its impact on the environment through sustainable practices."
Washington, D.C. (PRWEB) June 24, 2011
Founding Farmers, the greenest restaurant in Washington, D.C., is partnering with The George Washington University to establish the largest known restaurant-owned urban apiary in the country. The restaurant installed six beehives on the roof of Lisner Hall, an academic building on the GW campus that sits just two blocks away from the restaurant.
"This urban apiary is a natural extension of Founding Farmers' mission to minimize its impact on the environment through sustainable practices," said Dan Simons, Principal of VSAG, the restaurant consulting and management firm for Founding Farmers. "Not only do we love being able to harvest our own honey to supplement our restaurant's usage, but we are proud to partner with GW — a powerhouse in the world of education — on a project like this."
Although there are other urban apiaries within the D.C. area, including some owned by restaurants, the Founding Farmers' apiary at GW is the largest in the Washington metropolitan region. The six hives atop Lisner Hall will join four other GW-owned hives. While the hives won't yield honey immediately, there will be culinary uses for the bees and hives. GW's biology department will use the hives for research, specifically analyzing the pollen the bees bring back and tracking the exact flowers the bees visit: further underscoring both Founding Farmers — and the Founding Farmers Bees' — commitment to local eating.
Researchers will also study the parasites of honeybees and develop a bee behavior lab module for an introductory biology course for majors.
"We are pleased to partner with Founding Farmers in this exciting new endeavor," said Peg Barratt, dean of GW's Columbian College of Arts and Sciences. "This venture provides an opportunity to not only further expand the university's research goals and enhance our students' educational experiences, but play an active role in encouraging local sustainability and green living."
In its first year, the Founding Farmers' apiary may produce 10 pounds of honey per hive, but by the end of the second year, in 2012, each hive may produce between 20 and 120 pounds of honey which Founding Farmers will use on the menu at the restaurant and for small-production bottling.
In addition to creating the apiary, Founding Farmers also established a $5,000 scholarship that will be awarded to an undergraduate GW biology student who will oversee the apiary for the next year. The scholarship is the second that Founding Farmers has created for the university. Earlier this year, the restaurant awarded the first annual $5,000 Scholarship for Sustainable Hospitality, which is awarded to a student attending the GW School of Business.
Visit the Founding Farmers website for honeybee updates and follow the bees on Twitter @FFbees.
About The George Washington University - In the heart of the nation's capital with additional programs in Virginia, the George Washington University was created by an Act of Congress in 1821. Today, GW is the largest institution of higher education in the District of Columbia. The university offers comprehensive programs of undergraduate and graduate liberal arts study, as well as degree programs in medicine, public health, law, engineering, education, business and international affairs. Each year, GW enrolls a diverse population of undergraduate, graduate and professional students from all 50 states, the District of Columbia and more than 130 countries. To learn more, visit http://www.gwu.edu.
About Founding Farmers - Founding Farmers is Washington's Greenest Restaurant, offering farm-inspired American true food and drink in a modern, casual and eco-friendly farmhouse setting just three blocks from The White House. Opened in September 2008, the restaurant has gained international recognition for its triple-green approach to sustainable agriculture, earth-friendly operations and as the first LEED Certified restaurant in the Nation's Capital and the first upscale-casual, full-service LEED Gold restaurant in the country. The menus feature classic dishes inspired by the heartland, with delicious, true food and drink sourced from sustainable producers. Founding Farmers is also recognized for its exceptional mixology and bar program, featuring award-winning handcrafted cocktails inspired by pre-Prohibition-era libations. Condé Nast Traveler recently named Founding Farmers as one of First Lady Michele Obama's "Washington, DC Picks." Visit http://www.WeAreFoundingFarmers.com to learn more. Twitter: @FoundingFarmers
###