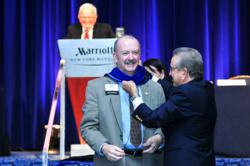 I am honored to assist IAUP President Michael Adams by serving as Secretary General and as a member of the IAUP/UN Commission.
Palo Alto, CA (PRWEB) June 29, 2011
Institute of Transpersonal Psychology President Neal King has been named to a three-year term as Secretary General of the International Association of University Presidents (IAUP), an organization that seeks to provide access to higher education and its principles of freedom of inquiry and speech for students throughout the world.
Dr. King was inducted as Secretary General at the IAUP's triennial conference in New York City this month, which drew hundreds of university leaders from around the world to a general assembly to establish its action agenda through 2014. The mission of the 600 member IAUP is to serve as the global voice of higher education leadership.
In addition to joining the leadership of the IAUP, Dr. King also serves as a member of the IAUP and United Nation's Commission on Disarmament Education, Conflict Resolution and Peace. The IAUP/UN Commission was founded in 1990 to "promote peace in our global society; to promote a more equal distribution of wealth and social conditions; and to promote tolerance, mutual understanding, and respect." Commission members consist of representatives from colleges and universities from around the globe.
"I am honored to assist IAUP President Michael Adams by serving as Secretary General and as a member of the IAUP/UN Commission," President King said. "The IAUP works with the United Nations Academic Impact initiative and other associations to span international boundaries and political systems to provide access to education as the only path to peace and human resource and economic development. As the president of an Institute deeply involved in the health, wellness, and peace of individuals and communities, I welcome the opportunity to join the IAUP/UN team and work towards the realization of its vision."
Founded in 1964, the IAUP works closely with many international organizations and initiatives, including the World Health Organization, the Qatar Foundation, the Academic Chairs for Africa, the Microsoft Academic Summit Initiative, and with the United Nations. It has representation on the World Bank, and addresses numerous issues through its commissions on women's education, sustainable development, university-industry collaboration, and higher education quality assurance and accreditation.
IAUP seeks to provide a worldwide vision of higher education, while strengthening the international reach of universities through academic exchanges and collaborations. Additionally, it works to ensure that the voice of education is heard in global discussions.
About The Institute of Transpersonal Psychology
For over three decades, the Institute of Transpersonal Psychology has developed its unique blend of training, research and community outreach.
Founded in 1975, ITP began as a groundbreaking center for integrative, whole-person learning and training. Today, the Institute is a leader in transpersonal research and education of clinicians, spiritual guides, wellness caregivers, and consultants. The Institute's stimulating and transformative educational paradigm, valuing the mind, body, spirit connection, attracts students from all over the world to both residential and distance-learning programs.
In addition to its graduate education programs, ITP operates the Community Center for Health & Wellness (CCHW), a professional counseling center and training facility offering quality services at an affordable sliding scale fee to the surrounding community. The CCHW combines contemporary psychotherapy with values that honor the mind, body, & spirit. The CCHW offers holistic programs for individual psychotherapy, couples and family therapy, spiritual guidance, health counseling, and the treatment of trauma.
Institute of Transpersonal Psychology Academic Programs:
Residential Programs (Offered on-campus in Palo Alto, California)
Psy.D. in Clinical Psychology
Ph.D. in Transpersonal Psychology
Master of Arts in Counseling Psychology (full-time daytime)
Master of Arts in Transpersonal Psychology (part-time evening)
Master of Arts in Counseling Psychology (part-time evening)
Global Online Programs (Study from any location in the world in an online environment)
Ph.D. in Psychology
Master of Transpersonal Psychology
Certificate in Transpersonal Studies
Low-Residency Programs (Hybrid online with minimum campus requirement)
Master of Arts in Counseling Psychology
Master of Arts in Spiritual Guidance
Master of Arts in Women's Spirituality
###