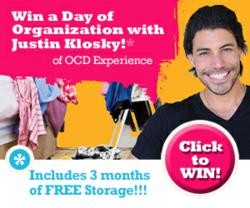 The Grand Prize will be a Day of Organization with celebrity organizer and founder of organized lifestyle brand O.C.D. Experience, Justin Klosky.
Los Angeles, CA (PRWEB) June 28, 2011
Self-storage shopping and comparison site Storitz.com is launching a social media driven contest to help its customers get organized for summer and win a day of services from professional organizer Justin Klosky.
With summer already in full swing, homeowners, families, boating enthusiasts, beach bums and everyone in between are finding that their stuff is cramping their summer style. It's impossible to take the bikes down to the lake if they're hidden behind last year's Christmas decorations and a decade worth of sentimentally valuable macaroni art. As part of its commitment to simplifying the search for self storage, Storitz is launching the Storitz.com Get Your Stuff Together contest. The Grand Prize will be a Day of Organization with celebrity organizer and founder of Organize & Create Discipline (O.C.D. Experience), Justin Klosky. The winner of the contest will get to move their superfluous stuff, messy mayhem or overstocked inventory into a 10x10 storage unit completely free for 3 months. Plus, to help out with the complicated and stressful process moving process, Justin Klosky will visit the winner at his or her home and spend the day organizing and packing up their stuff for the move. With his years of experience as a professional organizer and his passion for making any space livable, neat and serene, Justin Klosky will work with the winner to begin the organizational process in any home or office space as well as provide the winner with tips and tricks for maintaining an organized lifestyle.
Interested participants can visit storitz.com/organizer and fill out the short entry form that includes a sentiment of 140 characters or less describing why they need Justin's help. 5 finalists will be chosen from all the entries received, which will then be voted on by Storitz's facebook fans. The contest is only open to entrants who are looking for self storage in California.
For more details about the contest rules, visit storitz.com/organizer.
Entries will be accepted beginning June 28, 2011 and continuing through July 31st, 2011 . Finalists will be announced August 5th and final voting will take place through August 12th. Winners will be announced Monday, August 15th on Storitz.com, at facebook.com/storitz and twitter.com/storitzdotcom .
About Storitz
Started by former self-storage operators and technology industry veterans who are passionate about self-storage and Web consumer experiences, Storitz.com lists available storage units at hundreds of facilities all across the country. Consumers can not only search and compare the units, they can choose the exact unit that they will rent and pay for their initial rental unit without even leaving the site, much less their computer. By simplifying the rental and shopping process, Storitz makes it easy to find storage to suit anyone's needs. For more information visit storitz.com.
About Justin Klosky & O.C.D. Experience
O.C.D. Experience, founded by efficiency expert Justin Klosky provides clients with the tools necessary to establish and maintain organization and efficiency through simple discipline. Specializing in home, digital platforms, relocation and workplace organization, the O.C.D. Experience takes the difficult and often overwhelming task of efficiency and organization and clarifies the approach effectively creating life and business changing opportunities.
###