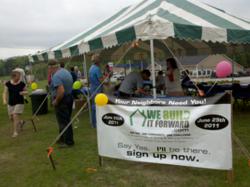 "After nearly 2 decades in the marketing business, I've learned that deep down, people just want to share their gifts and serve others, but these days even the most giving leaders in business need to make this powerful shift."
Manchester, NH (PRWEB) June 24, 2011
Today, Innerspire, a NH marketing and business growth strategy company, announced that they developed a new outreach program, dubbed "We Build it Forward" for and with their client and event partner R.P. Johnson & Son of Andover, NH. This first of its kind, R.P. Johnson & Son outreach program has successfully raised more than $10,000 worth of donations and services to help in their We Build it Forward day of giving for the needy. Thousands more of in-kind services have also been donated. Both the company website and the event website have seen hundreds of new visitors since the outset and many of them have signed up to volunteer for this June 25th outreach event. According to Sue Johnson, office manager and event team leader on the R.P. Johnson & Son team, "We've been getting calls, e-mails and tons of support from so many community members and businesses for our event. Our entire team has had the chance to engage with people from area towns in an exciting new way that just feels different – it feels great!"
The event is Built on Innerspire's G.I.F.T.S.™ Formula marketing service, which is the brainchild of NH native and Innerspire's CEO and founder, Nate Lindquist. According to Lindquist, the core of the formula, which has yet to be published in full detail, is simple, principle-based and combines genuine intentions to serve, behavioral and human needs psychology, strategic marketing principles and state-of-the-art web promotion in an formulaic decision making process. Add to that the obvious touch of charitable giving and you might say that the program has raised more than the bar for NH businesses. Although building charitable giving and outreach into a company's marketing is not always the driving force of the formula, Lindquist noted that it is introduced when it makes sense and, "It almost always makes sense."
Lindquist states, "After nearly 2 decades in the marketing and consulting business, I've come to the conclusion that deep down, people just want to share their gifts and serve others, but these days even the most giving leaders in business are stuck in a "sell and work hard to survive" paradigm. The thrust of our G.I.F.T.S.™ Formula service is that it shifts the focus of working for added sales as a priority, to serving others as the priority. In this system the added sales becomes one of the many rewarding dividends – along with added fulfillment from the process. Our formula reignites the entire business team's inspiration and then pairs it with tangible and principle-based growth strategies."
But, what does this mean for a 110 years strong building materials company? In these challenging times, the building industry has seen Housing starts in New Hampshire at 1,690 units (seasonally adjusted annual rate) in April 2011, a decrease of 31.6 percent from March. (jec.senate.gov) This is the worst trend anyone has seen since the 1970's. R.P. Johnson & Son of Andover, NH has shifted their focus to giving in a very unique way this year and according to R.P. Johnson spokesman they've already seen quite a few new do-it-yourself project sales from related promotions leading up to this event and they stated that they've been so focused on helping the community with the event, that it was just a nice added bonus.
"We've shifted (their) collective focus and therefore the direction of energy from business challenges to serving others. There is no better example than the up-tick in enthusiasm and good spirits within this great company. And after 110 years in business, I give them a lot of credit for their stamina and commitment to making the coming June 25th event happen", stated Lindquist.
As a testament to its success, the We Build it Forward event has captured the hearts, dollars and donations of more than 40 businesses and about 75 volunteers, who have pledged their support so far. In the words of R.P. Johnson president, Steve Johnson, "Every time I turn around in the community, someone's asking me about our event and saying that they'll say yes and that they just want to help. Nobody is asking for anything in return. They've just stepped up to lend their support, their dollars and their commitment to volunteer on June 25th." Why don't you follow suit and participate in something special this weekend and rather than pay someone back, Build it Forward. We're told that no special skills are required. Just show up ready to help and bring a canned good to donate to the area food banks. Head out on the town from R.P. Johnson's Andover headquarters at 8am Saturday, June 25th and team up with one of the groups that will tackle a dozen charitable projects for people and organizations in town who really need the help. Learn more now at http://www.webuilditforward.com
According to Lindquist there are presently 6 more G.I.F.T.S.™ Formula driven projects in the works for summer launch and several more to be announced soon. Although charitable outreach is only one of the many facets of this marketing program, Innerspire is actively interviewing charity and non-profit organizations to align them with current and future clients who do not currently have a giving or outreach program in place. For more information about these projects and the G.I.F.T.S.™ Formula, contact them at http://www.innerspire.com. Learn how to break through the dangerous assumptions that hold businesses back from growth.
About Innerspire: Enlightened Marketing & Brand Building
For nearly 2 decades, the folks at Innerspire have provided marketing and growth consulting services to a wide variety of industries. Their services include strategic marketing consulting, website design and development, search engine optimization and social media development, print and collateral design and advertising campaign development. The company's goal is to help clients attain the return they deserve by building brand and revealing their essence, generating leads, and creating sales. In addition, Innerspire is at the forefront of a movement to build businesses on an unshakable foundation of beliefs, consciousness of deeper purposes, and connection with what people want the most for greater returns than ever before. Visit Innerspire at http://www.innerspire.com.
###