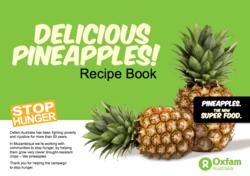 Oxfam Australia Executive Director Mr Hewett hoped Australians would get behind the Stop Hunger Appeal and to remember it's a good time to donate with the end of the financial year nearing.
(PRWEB) June 27, 2011
Acclaimed Australian chefs and food bloggers have donated recipes to an special edition Oxfam cookbook to support and encourage all Australians to get behind Oxfam Australia's new 'Stop Hunger' Appeal launched earlier this month.
With one in seven people in the world going hunger each day, the new Oxfam appeal highlights the urgency to donate and ensure people in poor countries have enough to eat.
Supporters of the appeal can access a variety of delicious pineapple themed recipes from high profile chefs including Neil Perry (Rockpool Bar & Grill, Spice Temple), Matt Kemp (Balzac), Glenn Thompson (Zest), Brendon Barker (Embassy XO),Ben Shewry (Attica) and Peter Sheppard (Caveau).
As well as food lovers, bloggers including Kathryn Elliott (Limes & Lycopene), Emma Evangelista (The cake mistress), Erin Wright (The Food Mentalist), Manon Dallee (Food Jobs), Barbara Harris (Winos and Foodies) and Joe Damrongphiwat (My Delicious Blog).
Gourmet Girl food blogger Ruth Bruten is among the many foodies who are eager to support such a timely and important appeal. "When I was asked to provide a recipe in support of Oxfam's Stop Hunger campaign, I jumped at the chance."
"Here in Australia we are blessed with choice about what we can grow and what foods we can eat. We have modern amenities that allow us to refrigerate and preserve with ease. Other communities are not so lucky and I was so happy to be a part of a campaign that is fostering viable solutions to them through this program," said Ms Bruten.
Matt Kemp head chef the prestigious Sydney restaurant Balzac, who contributed an appetising coconut foam with chilli roast pineapple recipe to the cookbook, also expressed his support in the appeal. "I am delighted to be able to assist the fantastic efforts of Oxfam by contributing a Pineapple recipe towards the online recipe book which is part of the Oxfam 'Stop Hunger' Campaign."
"As a chef I am constantly aware of how much can be done with food and the importance of using every part of the produce so I feel extremely privileged to be able to provide a recipe and help communities living in poverty grow and prepare good food for their families", said Mr Kemp.
Oxfam Australia Executive Director Andrew Hewett said the support from the Australian food community has been overwhelming.
"We have 16 Australian chefs and foodies, who have generously contributed to our cookbook and publicly highlighted their support for such an important appeal."
Mr Hewett hoped Australians would get behind the Stop Hunger Appeal and to remember it's a good time to donate with the end of the financial year nearing.
"We urge Australians to support Oxfam's food appeal this year. With the increase of natural disasters happening around the world and food prices rising, the public's financial support for our regular food appeal is even more vital than ever.
This month is especially a great time to donate to our Stop Hunger appeal, as it's tax time and all proceeds are tax-deductable." said Mr Hewett.
Why pineapples? This year's appeal profiles the work Oxfam Australia is doing to help people overcome hunger in Mozambique and the benefits drought resistant pineapple seeds can have in tackling this problem.
Faced with a 30 per cent increase in costs for food essentials such as rice, fish and wheat rose, and the after effects of a prolonged drought – many communities in Mozambique are suffering from extreme hunger and malnutrition. Right now almost half of children aged under five in Mozambique are affected by malnutrition.
Oxfam Australia is supporting women and men in Mozambique to grow more food by giving them seeds and farming education to grow drought tolerant produce such as pineapples.
Pineapples are rich in vitamins B1, B2, B6 and C and can help combat malnutrition. This is helping children to eat a healthy balanced diet, and helping local farmers generate an income so that they can provide for their families.
You can help families beat their food shortage, year round. Donate today.
A sneak preview of the Stop Hunger cookbook : http://www.oxfam.org.au/pineapples
###