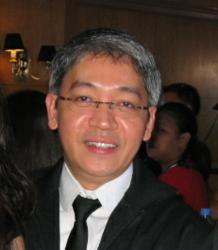 "Dr. Alfredo Callanta, is the first physician in the Philippines to use a new software program from Crisalix, the e-Stetix 3-D simulator."
(PRWEB) June 25, 2011
In order to better serve his plastic surgery patients undergoing breast augmentation, Dr. Alfredo Callanta, is the first physician in the Philippines to use a new software program from Crisalix, the e-Stetix 3-D simulator. Developed by engineers in Switzerland, e-Stetix is the first Web-based 3-D physical simulator for breast implant procedures. Dr. Callanta, who is also an anti-aging medicine practitioner, will offer e-Stetix as part of the initial patient consultation for breast augmentation at his practice – callantaplasticsurgery.com of Manila, Philippines.
e-Stetix is the first simulator for breast enlargement surgeries using the body's actual physical properties. Using just a few digital pictures from a regular digital camera and the patient's body measurements, e-Stetix is able to generate a 3-D simulation of the patient's body and then simulate the results of a breast augmentation procedure by selecting implants from a standard database. All the simulations are calculated instantaneously, giving the patient results in less than 10 seconds.
"This innovative simulation technique takes traditional 'before and after' photos to a new level. Now patients have the capability to actually see what their body will look like with different types and sizes of implants and make better decisions based on realistic 3-D images of their own body before and after surgery."
Traditionally, 3-D imaging systems have required large elaborate camera systems and required patients to remain uncomfortably still. With the e-Stetix simulator, Dr. Callanta is able to take 3 simple photographs in his Quezon City plastic surgery office and upload the photos securely to Switzerland. There the 3-D reconstruction is accomplished and then the surgical simulation can begin from Dr. Callanta's office.
Dr. Alfredo Callanta, treats patients at iPrime Center for Surgical Aesthetics in Quezon City and at Clarity Shangri-la Mall in Mandaluyong City, Philippines. He offers consultation and surgical procedures for breast implants, breast augmentation, breast lifts, breast reduction and breast reconstruction using silicon breast implant,fat graft, BRAVA system, and Breform breast support system. iPrime Center for Surgical Aesthetics also offers services for body contouring and other cosmetic surgeries.
For more information about e-Stetix, or to schedule a personal consultation, please call +6329296614/ text +639175229394 or visit callantaplasticsurgery.com.
Dr. Alfredo V. Callanta is a well renowned Plastic Reconstructive and Aesthetic Surgeon in Asia who has built a formidable reputation in Aesthetics Surgery by using a combination of artistry, consummate skill and the latest state of the art techniques.
Dr. Callanta is reputed for his use of fat in the rejuvenation of the face and hand, augmentation of the breast and butt, and the correction of liposuction complication through the use of fat graft. He is also known for his technique in lipo-abdominoplasty where he combines liposuction followed by abdominoplasty to achieve a better contour, shorter scar and faster post operative recovery. His technique in Goretex rhinoplasty, MACS facelifts with fat grafting, facial fat grafting, Brazilian butt lift, Asian blepharoplasty and other cutting edge facial rejuvenation procedures are very popular among his patients from the U.S.
A fully trained Board Certified General and Cancer Surgeon prior to his training in Plastic Reconstructive and Aesthetic Surgery, Dr. Callanta trained under the tutelage of the prominent leaders in the industry both in America, Europe and Brazil where he acquired the innumerable skills which he currently deploys in his surgery on the majority of his patients.
# # #