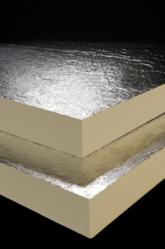 "We are delighted that the FR5000 series has achieved the lowest ever lambda value for Celotex PIR insulation," said Paul Evans, Product Manager for Celotex.
(PRWEB UK) 24 June 2011
Insulation manufacturer Celotex has once again set the standard for thermal efficiency – with its FR5000 product enabling you to achieve better U-values.
Delivering an exceptional lambda value of 0.021 W/mK, Celotex' new premium performance insulation is the only PIR to achieve the landmark lambda value, an 'A+' rating when compared to the BRE Green Guide 2008, British Board of Agrément Validation and Class O fire performance – showing Celotex' dedication to technical progression within its market leading range of PIR insulation.
Specially developed by Celotex' team of experienced scientists and technicians, the foil faced polyisocyanurate (PIR) FR5000 board reinforces the company's position as the leading product developer within the PIR sector. Over 100% more thermally efficient than many mineral fibre products and up to 10% better than typical PIR, FR5000 has been developed specifically for use in pitched roofs, floors and walls to meet the increasing demands of specifiers who require unparalleled product performance.
The newly achieved 0.021 W/mK lambda value means that FR5000 can now offer even better U-values. This will allow specifiers to opt for thinner insulation solutions to meet these requirements, improving useable space and simultaneously reducing material costs. Likewise, for schemes where the utmost degree of insulation is required, enhanced targets can be met with minimal profile thickness.
As premium performance PIR insulation, FR5000 is not affected when exposed to moisture, unlike phenolic and mineral wool based insulations which can have a significant effect on their thermal performance. Also, FR5000 is substantially lighter than these types of products leading to ease of on-site handling and less weight of any waste material to dispose of.
In addition to exceptional thermal performance, FR5000 offers a Class O fire rating; the first PIR board with this accreditation. The classification applies across the entire product, not just the foam core. This means that users can rest assured that they are being protected by high performance insulation with proven fire safety.
"We are delighted that the FR5000 series has achieved the lowest ever lambda value for Celotex PIR insulation," said Paul Evans, Product Manager for Celotex. "At Celotex, we are always striving to develop the best products, so that contractors, architects and specifiers have access to the best materials for their projects and the new lambda value is testament to this ongoing commitment."
"Celotex FR5000 enables the specifier to achieve better U-values and thinner solutions. Unlike other insulants such as phenolic which suffer variable performance, our consistent lambda of 0.021 Wm/K across all our thicknesses makes the specification choice much simpler. The outstanding achievement perfectly demonstrates the company's dedication to innovation."
Celotex prides itself on staying at the forefront of insulation technology to offer specifiers and installers the most versatile and efficient products. FR5000 joins Celotex' premium range of thermal performance insulation that includes CG5000, specifically designed for use in partial cavity walls, and SL5000, combining premium performance PIR insulation bonded to 6mm calcium silicate for use in concrete soffit floors.
Now with its premium solution offering, FR5000 can deliver exceptional levels of thermal performance that make it ideal for even the most challenging construction projects, helping to achieve modern building regulations for the reduction of carbon emissions and outstanding standards of energy efficiency.
For further information, please contact David Ing at CFA on:
Telephone: 01622 754295
Mobile: 07802 409484
Email: david(dot)ing(at)cfa-group(dot)com
Celotex Limited
Notes To Editors
Celotex is the UK's leading manufacturer of high performance PIR insulation boards. Chosen for a wide range of products across all market sectors, its range of products encompasses the thinnest and thickest boards available to the construction industry.
An innovator within the insulation sector, Celotex is committed to an extensive programme of research and development, ensuring the company remains at the forefront of insulation development.
All of the company's products are manufactured at its plant in Suffolk, from where the dedicated Celotex Technical Centre offers advice and calculations for compliance with building regulations.
# # #