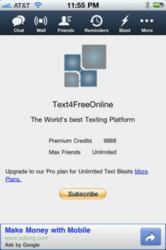 The new mobile versions of our service are extremely exciting and deliver the ease of access that our customers demand
Naples, FL (PRWEB) June 27, 2011
Text4FreeOnline's Free SMS, Group SMS and Bulk SMS products are designed specifically for individual consumers and small businesses.
Now available for iPhone, Android and Blackberry devices as intuitive Native Look and Feel Web Apps. With full support for realtime TextChat, TextBlasts and TextReminders, these great looking Apps allow individuals and small businesses to leverage all the power of the Group Messaging and Bulk SMS features of the Online version right from their mobile devices.
Recently chosen as a Featured App in the Chrome Web Store, Text4FreeOnline.com allows small businesses to implement their mobile marketing campaigns at a fraction of the cost of other providers. Mobile Keywords, Web Widgets, Text & Email Invitations and integration with GMail, Hotmail, Yahoo Mail, AOL, Plaxo and CSV files, means, building large opt in databases of customers for mobile marketing has never been easier or more effective.
"Text4FreeOnline has the most cost effective mobile marketing solution in the market." says Amy V. Chief Marketing Officer for Text4FreeOnline. "We take pride in delivering excellent value, service and outstanding technology. Our exciting new Mobile optimized Web Apps set us clearly ahead of the competition in terms of ease of use, accessibility and features."
"Our Free Text and Premium SMS choices give companies the flexibility they need to decide the most cost effective means of reaching their customers. " says Emily M. Head of Small Business sales, "Combined with the lowest pricing in the industry our solutions make mobile marketing cost effective for businesses large and small"
About Text4FreeOnline
Text4FreeOnline is a service of TextServ, a customer engagement & mobile marketing solutions company. TextServ offers powerful next generation tools for mobile operators and marketers serious about reducing customer churn and increasing ARPU by leveraging the power of event triggered, contextual marketing campaigns.
# # #