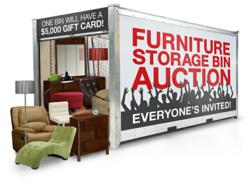 We're very excited to offer the public such a unique furniture buying experience.
Columbus, OH (PRWEB) June 24, 2011
The best value in designer furniture just got better with 'BID ON A BIN!' On Saturday July 2, the parking lots of the Falls Church, VA Value City Furniture and North Olmsted, OH Value City Furniture stores will transform into a furniture storage bin auction. Attendees at both locations will have the opportunity to bid on 10 storage bins packed full of new designer furniture including sofas, recliners, bedroom sets, dinettes, accessories and more. Many bins will also include hidden treasures such as weekend getaways; tickets to local sporting events, and one bin, at each location, will include a $5,000 Value City gift card.
"We're very excited to offer the public such a unique furniture buying experience," said Scott Binger, vice president of Creative Services/Customer Experience with Value City parent company American Signature, Inc. "These bins will be loaded with the past year's great collections – many of which are part of our July 4 holiday clearance. We're literally clearing our inventory in preparation for the new fall fashions arriving in September."
The auction will be held in the parking lots of each Value City Furniture store. In Falls Church, VA, the store is located at 5516 Leesburg Pike, Falls Church, VA. And in North Olmsted, OH, the store is located at 4700 Great Northern Blvd, North Olmsted, OH. Admission to the auctions is free and registration will begin at 10 a.m. with bidding beginning promptly at 11 a.m.
Prior to each bin's auction, attendees will be given 10 minutes to view the contents inside. This viewing will be done without anyone entering the bin or touching any of the furniture. Once this time period has elapsed, bidding will begin. Bins will be sold to the highest bidder and all sales are final, no returns or exchanges and product is sold as-is. Storage bin retailer 1-800-PACK-RAT will be on-site to provide winning bidders with delivery options.
Value City Furniture is open seven days per week. For more information about the auction, please visit the event page on Value City Furniture's Facebook page.
About Value City Furniture
Value City Furniture, a subsidiary of American Signature Inc., has furnished America's homes for more than 60 years. Ranked repeatedly among the top 10 of Furniture Today's list of Top 100 Furniture Retailers, Value City has established a reputation for delivering affordable, high-quality furnishings with outstanding customer service and an unbeatable selection. Based in Columbus, Ohio, Value City Furniture is one of the country's largest furniture retailers with 99 stores in operation. For more information about Value City Furniture visit http://www.vcf.com.
###