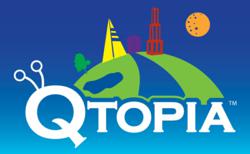 Qtopia Plus takes the fun, easy-to-use tools of the original version and makes them not only state specific, but student specific
Philadelphia, PA (PRWEB) June 27, 2011
Qtopia, an online interactive learning platform, created by Qwizdom, with thousands of ready-to-use materials for K-8 students, announces Qtopia Plus, a premium version of the eLearning and gaming software. The paid version builds on the free platform which launched earlier this year, adding elements to the highly successful game-based learning software, including state standards-aligned curriculum, additional learning tools, and increased reporting features.
"Qtopia Plus takes the fun, easy-to-use tools of the original version and makes them not only state specific, but student specific," said Darin Beamish, CEO of Qwizdom. "Teachers can assess their student's knowledge in particular areas and personalize their learning experience, offering standard- based lessons for each concept, so no time is wasted searching for alternate teaching material. Since Qtopia's initial release in January 2011, the community has grown to over 10,000 educators in leading schools across the country and we look forward to expanding that number with the help of Qtopia Plus."
Qtopia Plus offers increased customization, access to ReadySet State standards-aligned curriculum, additional games, animated avatars, supplementary lesson and answer explanations, and district-wide reporting capabilities. These features allow teachers and administrators to track student progress in real-time on assessments that align to the format, content, and difficulty of today's high-stakes statewide exams.
"Students picked up the general use of the programs and systems quickly, usually within the first session," said Bob Richardson, Instructional Technology Coordinator and teacher for Central Florida Leadership Academy. "Teachers learned a great deal through students' experiences. Qtopia, and Qwizdom technology support has been immediate."
About Qtopia
Qtopia is a new online learning platform for curriculum-based education where teachers create customized lesson plans and assignments that incorporate gaming into everyday lesson practice. Qtopia has been pilot tested by leading schools across the country and is a registered trademark of Qwizdom, Inc. To register please visit: http://www.qtopia.com, for more information, please visit http://www.yourqtopia.com or call 877-794-9366.
# # #