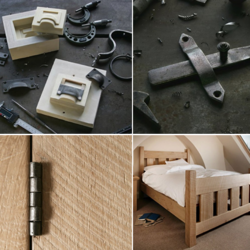 We searched for months to find a machine that would add to the character of the wood
(PRWEB UK) 27 June 2011
UK furniture designer and manufacturer Indigo Furniture, who are based in Matlock, Derbyshire, have achieved huge success already this year due to their UK focused furniture range. From their workshop nestled in this small town at the heart of the Peak District in England they design and manufacture a unique range of furniture for the home using natural materials that have been sustainably sourced.
This company are flying the British flag when it comes to producing leading UK furniture, and this starts right away from the concept and design stage. Indigo understand the needs of the British consumer and designs furniture that will be practical, stylish and hard-wearing, whilst keeping a "uniquely British" feel to it. This concept is reflected perfectly in their exclusive range of 'Riven Oak' furniture, that following it's launch in winter 2010 has become a huge bestseller.
Speaking of how the design process began, Tim Lowry, Marketing Director at Indigo Furniture explains; "We had to get right back to basics on how we were going to produce this furniture to give it the distinctive British feel that we feel will make it stand out from the crowd " He continues, "while modern woodworking machinery offers efficiency and reliability, it lacks soul, we searched for months to find a machine that would add to the character of the wood and eventually found a discarded 'Ripsaw' that dated back to the 1930's, having renovated the old saw we then used it to process the oak planks allowing us to create furniture where every piece of wood used is totally unique".
The Riven Oak range has proven to be so popular that Indigo have recently extended the range further, and now offer their popular package deals in this range. This allows customers to kit out an entire room with several pieces of furniture and benefit from hefty discounts against the price of the individual pieces.
Indigo are passionate about using traditional techniques to create every element of their furniture, and this belief can be seen in each individual element of the design, even down to the handles and hinges on each piece. To ensure that highest quality is achieved, Indigo use a father and son blacksmith team, also based in Derbyshire, to forge the metalwork templates using traditional manufacturing techniques that are steeped in British heritage. This pattern making procedure used by the blacksmiths is what gives the metalwork it's distinctive rich gun metal finish which makes each and every handle and hinge a completely unique piece.
It is the care and attention that Indigo pay to the small details like this which has meant that they can stay true to their philosophy that the "quality is in the detail". The confidence they have in both their workforce and furniture allows them to give all of their wooden furniture an impressive 15 year guarantee against manufacturing and structural faults.
Indigo also have a showroom in the centre of the beautiful spa town Matlock so that customers can see their furniture, including the new oak furniture range, in the flesh. Built to co-exist with their website there is no doubt that this furniture company which is a market leader in British design and furniture manufacturing will only go from strength to strength.
###