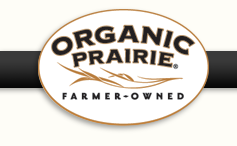 'Organic Prairie is a
farmer-owned cooperative of organic family farms with strictly enforced
production standards that include pasture-based feeding and humane
treatment of
animals,' says Nischan.
La Farge, WI (PRWEB) June 27, 2011
Organic Prairie, the brand of organic meats produced by the same farmer-owned coop as Organic Valley, today premiered what could become the hottest movies of the summer: grilling how-to's featuring Chef Michel Nischan and starring delicious Organic Prairie meats sizzling on the barbecue.
Together with Nischan's recipes and year-round grilling tips for pros and amateurs alike, the videos are posted at http://www.organicprairie.coop, the website and online store for Organic Prairie. Organic Prairie offers a full line of organic beef, pork, chicken and turkey—from steak to grass-fed burgers and hot dogs—all organic and available year-round in stores nationwide and online.
"Organic Prairie is a farmer-owned cooperative of organic family farms with strictly enforced production standards that include pasture-based feeding and human treatment of animals," says Nischan. "It's what makes their meats taste so good. And to know that Organic Prairie is owned by the farmers who follow these practices give a tremendous purpose to my personal buying decision."
Nischan, a leader in the sustainable food movement, has over 30 years of experience working with local producers and farmers—a natural fit with Organic Prairie. A two-time James Beard Foundation award winner, Nischan is the owner/founder of Dressing Room: A Homegrown Restaurant, in Westport, CT, and the CEO of Wholesome Wave Foundation, a nonprofit that provides access to healthy, fresh, and affordable, locally grown food for the wellbeing of all, http://wholesomewave.org/
As pioneers of the organic meat industry, Organic Prairie farmers began producing delicious meats—without the use of antibiotics, synthetic hormones, or pesticides—back in 1996. They insisted on third-party organic meat certification long before federal organic standards were established, and were the first in the industry to ban animal by-products from cattle's diet. Organic Prairie coop members also played a vital role in shaping federal organic meat certification standards—the strictest in the industry. The result is delicious taste that comes from healthy animals raised on pasture.
About Organic Prairie
Organic Prairie, the brand of organic meats produced by the same farmer-owned coop of Organic Valley, produces a variety of delicious, high quality organic meats. Organic Prairie's farmers are committed to providing your family with the healthiest, most wholesome meat, raised humanely in accordance with organic principles and practices—respecting the dignity and interdependence of human, animal, plant, soil and global life. We know that meat produced organically is the safest, best choice for our families, and we're proud to make it available for yours to enjoy! To learn more, please visit http://www.organicprairie.coop
Organic Valley: Independent and Farmer-Owned
Organic Valley is America's largest cooperative of organic farmers and one of the nation's leading organic brands. Organized in 1988, it represents 1,636 farmers in 34 states and three Canadian provinces, and achieved $619 million in 2010 sales. Focused on its founding mission of saving family farms through organic farming, Organic Valley produces a variety of organic foods, including organic milk, soy, cheese, butter, spreads, creams, eggs, produce and juice, which are sold in supermarkets, natural foods stores and food cooperatives nationwide. The same farmers who produce for Organic Valley also produce a full range of delicious organic meat under the Organic Prairie label. For further information, call 1-888-444-MILK or visit http://www.organicvalley.coop, http://www.organicprairie.coop and the cooperative's farmer website, http://www.farmers.coop. Organic Valley is also on Twitter @OrganicValley and Facebook http://www.facebook.com/OrganicValley.
About Wholesome Wave
Wholesome Wave is a nonprofit, 501(c)3 organization dedicated to supporting small- and mid-sized farmers and making fresh, healthy, locally grown fruits and vegetables available to all people, regardless of income. Wholesome Wave partners with farmers markets, community leaders, healthcare providers, like-minded nonprofits and government entities to implement programs that benefit consumers in under-served communities and the farmers who provide for them. With the help of more than 45 partner organizations, Wholesome Wave has expanded to more than 170 markets in 26 states, Wholesome Wave's highly successful Double Value Coupon Program gives participating farmers markets the tools they need to welcome SNAP benefits (formerly known as Federal Food Stamps) — as well as the Supplemental Nutrition Program for Women, Infants and Children (WIC), Farmers Market Nutrition Programs (FMNP) and the Senior FMN — and allows recipients of those benefits to buy more fresh, healthy foods for their families. With the goal of influencing public policy and shifting federal funding to support innovative, market-based programs that meet its goals, Wholesome Wave develops and implements systems and processes that track program success and the health and purchasing habits of the people it serves. For more information, visit http://www.wholesomewave.org.
# # #