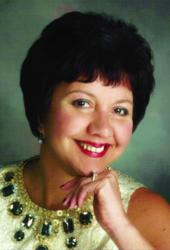 Louie Morelli, a new type of mobster.
Detroit, MI (PRWEB) June 28, 2011
Forget the cigar smoke, polyester, and views of the Verrazano Bridge. Crime author Patricia's Bellomo's main character, Louie Morelli, is a savvy entrepreneur who spends his downtime on the deck of his eighty-foot Hatteras, the Stella di Mare. Incidentally, this is also the title of Patricia Bellomo's first book. The second novel in Ms. Bellomo's Louie Morelli character series, Louie Morelli's Daughter, was released in April.
Louie Morelli doesn't fit the caricature of the New Jersey mobster. He lives in Florida, and he's not dealing drugs or moving swag, although he's fairly clever when it comes to swindling a degenerate film-maker out of a rare blue diamond—as he did in Stella di Mare. The characters Louie cheats usually deserve it, but even when they don't, readers still root for him.
Midwest Book Review says, "Louie Morelli's Daughter is a fast packed action and adventure thriller, highly recommended," and according to Dad of Divas' Reviews, "This book is a page turner," and "one that I simply could not put down."
"Louie Morelli has looks, charm, and wealth, and women adore him," says crime novelist, Patricia Bellomo. "But my male readers love Louie because he is so, so cool. And like James Bond, he always gets the girl." Ms. Bellomo describes Louie Morelli as being a charismatic personality, with star appeal. He wears Italian labels and dines at south Florida's swankiest restaurants. Plus he's got the really cool yacht—a veritable chick magnet.
Rocketdog, an Amazon reviewer, writes, "Louie Morelli is a fascinating character with some surprising twists." Another reader puts it this way: "Patricia Bellomo has the best characters in fiction."
This fascinating character now authors "Louie's Blog" on Patricia Bellomo's website. In the articles Louie frequently mentions his wife … and his girlfriend. But regardless of his infidelity, Louie is devoted to his family, particularly his daughter, Stella, who is definitely daddy's darling.
Louie Morelli lives in Delray Beach, and does legitimate business in Palm Beach County and Miami, and sometimes in his hometown of New Orleans. He's not out to score—although he frequently does score—and he likes to think of himself as being retired from his former practices. But in Louie Morelli's Daughter his darling Stella gets abducted by loan sharks intent on recouping her husband's gambling debts, and Louie calls in the boys.
A loyal reader named Lynn emails Patricia Bellomo and writes, "I want your new book ASAP. Please let me know if it's on sale yet. We're going through Louie withdrawls!"
Incidentally, both Louie Morelli's Daughter and Stella di Mare are on sale at Amazon.com, all on-line retailers and major booksellers, and can be purchased through Patricia Bellomo's website. Kindle and e-book versions are also available. For free entertainment visit Louie's Blog on Patricia Bellomo's website or for a small fee, purchase one of the short-stories she offers for sale on her download page.
###