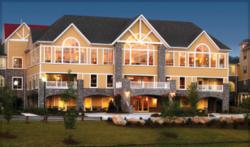 "Entertainment is an important part of life at Park Springs. We have many talented Members who stage their own standing-room-only productions each year, and they've come to expect the best. That's exactly what the Talent Showcase will help us deliver."
Atlanta, GA (PRWEB) June 24, 2011
Award-winning retirement community Park Springs is serious about offering its members the very best of everything, including entertainment.
Inspired by shows like "American Idol" and "Dancing with the Stars," Leisure Services Director Lisa Kiely came up with the idea of inviting area singers, actors, musicians and others to Park Springs on Sunday June 26 to compete in a Talent Showcase. Kiely also invited her counterparts from three other Atlanta-area retirement communities.
"Top quality is what our community is about," explains Kiely. "We look for the best in food and amenities, and entertainment is no exception."
Kiely and her colleagues are regularly contacted by entertainers who would like to perform. So she asked all those who wish to be considered to strut their stuff before a panel of judges from Park Springs, Life Span, Briarcliff Oaks and Claremont Oaks. About 15 residents from each community will also attend the event with Park Springs members and guests.
Kiely anticipates spirited competition from a dancer, storytellers, pianists, vocalists and a variety of other performers. The top three winners will receive cash prizes, plus invitations to perform throughout the year at the participating communities.
"Entertainment is an important part of life at Park Springs. We have many talented Members who stage their own standing-room-only productions each year, and they've come to expect the best. That's exactly what the Talent Showcase will help us deliver."
Also on June 26, Park Springs will be open to the public from 2 to 4pm for their Summer Open House. Guests will have a unique opportunity to visit the campus and tour a variety of model homes, the clubhouse, fitness center and health center. Self-guided tours and guided tours will be available.
Park Springs is a 54-acre, resort-style Continuing Care Retirement Community surrounded by Stone Mountain Park near Atlanta, Georgia. It was developed by Isakson Living and is managed by Life Care Services. The community offers gracious independent living homes, cottages and villas. Park Springs also provides onsite, Medicare-certified skilled nursing and memory care, rehabilitation therapy, assisted living residences and in-home care. To learn more about Park Springs, call (678) 684-3300 or visit http://www.parksprings.com.
###