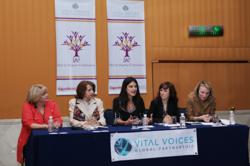 We need to tap into the economic potential and talent of women in Latin America - the Businesswomen's Network will do just that. -- Reyna McPeck, founder and president of Vital Voices Venezuela
Mexico City, Mexico (PRWEB) June 27, 2011
Alyse Nelson, President and CEO of Vital Voices, today launched the Latin America and the Caribbean Businesswomen's Network (LAC BWN), which will begin with pilot programs in Argentina, Guatemala and Nicaragua and progressively expand to other countries in the region.
The network will mobilize and connect women professionals and entrepreneurs to promote economic growth and strengthen the business environment for women's economic engagement through training, mentorship and capacity building programs. Specific activities will be implemented in collaboration with businesses and local organizations, based on in-country needs assessments of women-owned enterprises.
The LAC BWN aims to be the premier organization for businesswomen across the region, building on the success of existing regional BWNs in sub-Saharan Africa and the Middle East and North Africa as a key step toward developing a global businesswomen's network.
View updated photos and interviews.
The new network was made possible by grants from the ExxonMobil Foundation and Walmart to Vital Voices Global Partnership, an organization founded by Secretary of State Hillary Rodham Clinton in 1997 to advance women's leadership internationally as a vehicle for transformative change in economic development, human rights and political participation. The organization has reached more than 500,000 women in 127 countries. Vital Voices fostered the idea of creating the network in response to objectives set by local businesswomen in the LAC region.
Reyna McPeck, founder and president of Vital Voices Venezuela, said at the launch, "Our region is experiencing tremendous growth, with many predicting this will be 'the Latin American Decade.' We need to tap into the economic potential and talent of women in Latin America — the Businesswomen's Network will do just that."
"Businesswomen networks are a vehicle for economic growth and support women entrepreneurs to be leaders of positive change in their communities," said Suzanne McCarron, president of the ExxonMobil Foundation. "We have seen firsthand the powerful impact of the Businesswomen's Network in sub-Saharan Africa and the Middle East and are excited to expand our investment in this effective economic empowerment model by supporting women entrepreneurs in Latin America."
The network will mirror existing BWNs, which are demonstrating positive results. The Middle East and North Africa BWN includes almost 2,500 members across 10 countries, with over 18,500 businesswomen having participated in BWN programs. More than 8,000 businesswomen have attended Africa BWN programs, with over 90 percent of participants reporting benefits to their business as a result. The ExxonMobil Foundation provided financial support for the networks in the MENA and sub-Saharan Africa regions, which were launched in 2006 and 2009 respectively.
Alyse Nelson, President and CEO of Vital Voices, said at the launch: "Globally, there is growing recognition that women are a powerful economic force; they are the 'emerging market' of our time. This is a critical moment for Latin America and the Caribbean; we've got to invest in women to capitalize on the momentum of economic growth."
Eduardo Solorzano, President and CEO of Walmart Latin America said of the launch: "At Walmart we believe women play a critical role in strengthening their local economies and communities," said Eduardo Solorzano, President and CEO of Walmart Latin America. "By creating a regional network that supports women entrepreneurs, Vital Voices is helping more women become catalysts for economic growth and prosperity in Latin America."
About Vital Voices Global Partnership:
Vital Voices' mission is to identify, invest in and bring visibility to extraordinary women around the world by unleashing their leadership potential to transform lives and accelerate peace and prosperity in their communities. It is an international non-governmental organization (NGO) that identifies, trains and empowers emerging women leaders and social entrepreneurs around the globe, enabling them to create a better world. Its international staff and team of over 1,000 partners, pro bono experts and leaders, including senior government, corporate and NGO executives, have trained and mentored more than 8,000 emerging women leaders from over 127 countries in Asia, Africa, Eurasia, Latin America and the Caribbean, and the Middle East since 1997. These women have returned home to train and mentor more than 500,000 additional women and girls in their communities. Visit http://www.vitalvoices.org to learn more.
About ExxonMobil Foundation:
ExxonMobil Foundation is the primary philanthropic arm of the Exxon Mobil Corporation in the United States. The Foundation and the Corporation engage in a range of philanthropic activities that advance education, health, science and women's economic leadership in the communities where ExxonMobil has significant operations. In the United States, ExxonMobil supports initiatives to improve math and science education at the K-12 and higher education levels. Globally, ExxonMobil provides funding to help women fulfill their economic potential and combat malaria and other infectious diseases in developing countries. In 2010, together with its employees and retirees, Exxon Mobil Corporation, its divisions and affiliates, and ExxonMobil Foundation provided $237 million in contributions worldwide. ExxonMobil and the ExxonMobil Foundation have invested more than $47 million in programs to advance economic progress and opportunity for women around the world since 2005. Additional information on ExxonMobil's community partnerships and contributions programs is available at http://www.exxonmobil.com/community.
About Philanthropy at Walmart:
Walmart and the Walmart Foundation are proud to support initiatives that are helping people live better. From Feb. 1, 2010 through Jan. 31, 2011, Walmart and the Walmart Foundation gave $732 million in cash and in-kind gifts, including donating 257 million pounds of nutritious food to local food banks across America. The Foundation also supports education, workforce development, economic opportunity, environmental sustainability, and health and wellness initiatives. Internationally, Walmart gave $66 million in cash and in-kind gifts to charitable organizations. To learn more, visit http://www.walmartfoundation.org.
###