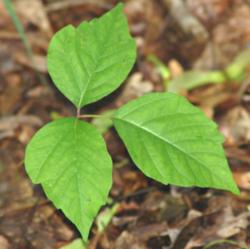 Now is the time to take steps to prevent or minimize outbreaks of poison ivy with safe, natural products.
Rhinebeck, NY (PRWEB) June 24, 2011
Summer is in full swing now, and families are spending more time outdoors—which means an increased exposure to poison ivy reports Topical BioMedics, Inc.
Poison ivy tops the list of plants to avoid because it contains urushiol, an oily resin that binds to the skin on contact and may result in a hypersensitivity reaction characterized by itching, burning skin eruptions. This rash-causing poison ivy sap is a clear liquid found in the plant's leaves and the roots. It is extremely potent, and only one nanogram (billionth of a gram) is needed to cause a rash.
After urushiol oil has touched the skin it takes about 12 to 36 hours for redness and swelling to appear, followed by blisters and itching. Contrary to popular belief, scratching or oozing blister fluid cannot spread the outbreak or transfer it to other people.
Urushiol oil remains active for several years, so even handling dead leaves or vines can cause a reaction. In addition, oil transferred from the plant to other objects—such as gardening tools, an article of clothing, or even a pet—can cause the rash when it comes in contact with human skin. If poison ivy is eaten, the mucus lining of the mouth and digestive tract can be damaged. And if poison ivy is burned and the smoke inhaled, a rash may appear in the lining of the lungs, causing extreme pain and respiratory difficulty that may become life-threatening.
Poison Ivy Survival Guide
Families can have a more enjoyable summer by following these tips from Topical BioMedics, Inc., the leader in regulated topical natural biomedicines for pain relief. "We're hitting prime poison ivy season now, which will continue into the fall, says Lou Paradise, the company's president and chief of research. "Now is the time to take steps to prevent or minimize outbreaks with safe, natural products."
Prevention:
Avoid contact with the plant. If you have a lot of it growing in your yard, consult with a professional landscaper for removal. (Unless you are a professional, do not "weed whack" as it sprays the poison ivy—and hence the oil—right at you.)
Prior to any outdoor activity, apply odorless, greaseless Topricin Pain Relief and Healing cream to any exposed areas of your body, including face, neck, hands, arms, etc. This will form a protective barrier, making it more difficult for the urushiol oil to bond with your skin. Topricin contains natural medicines that also neutralize the adverse affect of urushiol oil. As an added plus, Topricin is the gardener's favorite for relieving all those aches and pains of doing yard work.
Urushiol oil is extremely stable and will stay potent for years--which means you can get a rash from clothing or tools that got oil on them many seasons ago. After exposure to poison ivy, put on gloves and wipe everything you had with you and on you with rubbing alcohol and water, including shoes, tools, and clothing. Then wash clothes at least twice before wearing (if possible using bleach), hose off garden tools well, and apply leather moisturizer on footwear to prevent them from drying out (again, put on gloves).
Pets seem to be immune from getting poison ivy, but people can get a rash from the residual urushiol oil on their fur. If your dog or cat has wandered into poison ivy, bath it wearing thick rubber gloves (not latex). Consult with your veterinarian if you have any questions.
Treatment:
Urushiol binds to skin proteins and begins to penetrate within 15 minutes of contact. If treated beforehand, a reaction may be prevented. Here's how:
First, wash exposed site with cold water (hot water will open your pores, allowing the oil in).
Follow this by bathing it in milk, which helps to get between oil and skin.
Dry off well and then apply Topricin, which will help neutralize the effect of any remaining urushiol oil left on your skin.
Wherever poison ivy grows, there is usually a plant known as jewelweed growing close by—especially in moister, shadier areas. Herbalists and Native Americans have used jewelweed for centuries as a natural remedy for treating and speeding the healing of poison ivy. When you are in the field and may have been exposed to poison ivy, pick jewelweed, slice the stem, and rub its juice on your skin to ease irritation and help prevent a breakout.
Some companies and herbalists offer poison ivy treatment soaps that contain jewelweed and other soothing natural ingredients, such as pine tar. Soaps are available from Poison Ivy Soap Company, Burt's Bees, or search online for sources.
Take homeopathic Rhus Tox 30X tablets to help build immunity to poison ivy.
For severe outbreaks, or if you have any concerns whatsoever, see your doctor right away. It's important to note that anyone who has typical poison ivy symptoms accompanied by a fever higher than 100 F, breathing problems, blisters that ooze yellow fluid, or a rash that affects the eyes and/or mouth should seek medical attention.
About Topical BioMedics, Inc.
Topical BioMedics is the research and development leader in topical regulated natural biomedicines for pain relief. The company's flagship product, Topricin® Pain Relief and Healing Cream, was introduced in 1994 and is now a leading natural therapeutic brand. A combination homeopathic formula, Topricin was awarded a patent for the treatment of pain associated with fibromyalgia and neuropathy.
The Topricin family of natural healing products also includes Topricin Foot therapy Cream, specially formulated to treat painful foot and ankle issues and conditions, and Topricin Junior for children (http://www.topricinkids.com), which received the Parent Tested Parent Approved Seal of Approval and is a designated Trusted Partner with Healthy Child Healthy world (http://www.healthychild.org) All Topricin products are FDA-regulated over-the-counter medicines with no sides effects, no parabens, petroleum, or other harsh chemicals, no grease, and no odor.
Topricin is available in pharmacies, natural food stores, and retailers nationwide, including Whole Foods, The Vitamin Shoppe, Fred Meyer, Wegmans and other fine stores, as well as directly from the company.
For more information visit http://www.topricin.com
###