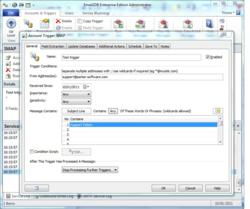 Orlando, FL (PRWEB) June 27, 2011
Consumer demand for excellent customer service is now paramount to any business that has an online presence. Social channels provide any consumer the ability to voice their opinions and experiences regardless of whether these experiences are positive or negative. Organisations can therefore no longer afford to be flippant about customer service across all channels, telephone, email, chat, forums and FAQ's.
Email is often overlooked by most organisations as a customer service channel, and is often viewed as a disjointed communication method, with consumers often having to wait for a response to a question raised. Delays in response can often result in not only dissatisfaction but also lost revenue for any organisation that neglects this customer service channel, as consumers will quickly look for alternatives that have faster response times to any questions they may wish to present.
Estimates for the average response times for Email are varied ranging from 21 hours through to 28 days, in comparison to telephony and live chat this is clearly unacceptable from a consumer perspective. A statistic that is even more disturbing is that close to 50% of organisations fail to even acknowledge receipt of a customer email and provide a response time.
Companies are beginning to re-evaluate their approach to email as a form of customer service, and Parker Software, developers of Email2DB, are seeing a significant uptake for their email automation solution, as pressure increases on organisations to provide timely and accurate email responses.
Email2DB is an email parser solution, unique in its ability to interrogate an email in its entirety, including the subject line, email address, body and even an email attachment. In its simplest form the application can look for key fields of information for example a customer service request relating to an order placement, order query or shipping request, the software looks for key fields within an email an order reference or keyword/s for example. Email2DB takes this information, interrogates the organisations database/s or FAQ's to identify the correct response, order and then creates an accurate automated response, it can even send a future follow up email if required.
Email2DB requires little in the way of Manual intervention other than its initial configuration and automated responses are generated within moments of an email being received. As a direct result organisations are not only improving response times and customer service they are significantly reducing operational costs by removing what has traditionally been a time consuming manual process.
Other high level features of Email2DB include the ability to update databases, process attachments and automate business processes and more, such is the software's diversity that Parker Software now includes the likes of NASA, BBC, Sage, Cisco, Xerox, Avaya, Deloitte, Adobe, Wesleyan Assurance, 20th Century Fox, Kaplan, Fujitsu, Mitsubishi Electric, Boehringer Ingelheim, Microsoft, Thales and more as their clients.
###