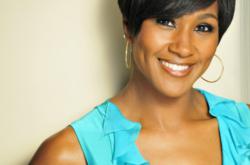 I'll proudly introduce the gala attendees to my wonderful TAKE WINGS kids! Everyone is in for a fun, entertaining and informative evening.
San Francisco, CA (PRWEB) June 25, 2011
San Francisco native and celebrated television and movie actress Terri J. Vaughn is founder of TAKE WINGS FOUNDATION, a non-profit organization that addresses social and life skills needs of at-risk teens. On Saturday, August 13, 2011, TAKE WINGS will host its eighth annual black-tie benefit affair with pre-gala receptions commencing at 6:00 pm at San Francisco Marriott Marquis, 55 Fourth Street. Tickets ($150 per person) may be purchased online at http://www.TakeWings.org.
Joining illustrious actress Terri J. Vaughn to host, perform, speak, honorary chair, sponsor, and receive recognition during her TAKE WINGS FOUNDATION's eighth annual Angel Awards Benefit Gala are:
EVENT CO-HOSTS:

Actress Nicole Ari Parker (AKA Nikki Kodjoe)
(FILM: "Exiled: A Law & Order Movie," "Blue Streak," "Welcome Home Roscoe Jenkins;" TV: "Soul Food," "Second Time Around")

(FILM: "Resident Evil: Afterlife," "The Confidants" "Surrogates;" TV: "Undercovers," "Second Time Around")
ENTERTAINMENT:

(DISC: "Kelly" (2011) "This is Who I Am" (2006), "Priceless" (2003)
2011 ANGEL AWARD HONOREES:

Warren J. Strudwick, M.D., M.B.A. – Board certified orthopedic surgeon and sports medicine; President, Sinkler Miller Medical Association
Edward Fitzpatrick – Multiple car dealership owner; philanthropic contributor to the arts, education and community enhancement
HONORARY CHAIRPERSONS:

Denise Washington LeNoir, M.S.N. – Family Nurse Practitioner specializing in healthcare for adolescents and teens; 2010 TWF Angel Award recipient
Neda Barrie – Senior Executive Vice President, Business Development, Golden State Warriors
Alvin "Al" Attles – Former Golden State Warriors guard and head coach
Michael A. LeNoir, M.D., F.A.A.A.A.I. – Practicing Oakland/San Francisco Bay Area pediatrician and allergist; CEO, Ethnic Health America Network
SPONSORS:
Wells Fargo, Safeway Foundation, Golden State Warriors, Kaiser Permanente, Ross Stores, House of Hennessy and KBLX 102.9-FM
ABOUT TAKE WINGS FOUNDATION (TWF):
Take Wings Foundation is a non-profit organization whose mission is to build the self esteem of San Francisco Bay Area at-risk teens between the ages of 13 and 18 by providing positive experiences and role modeling. The foundation's core components in achieving its mission involve encouraging and enabling youth to provide community service, participate in life skills development activities and workshops, and earn academic scholarships, while emphasizing education, health and fitness. In 2010 TWF added Take Wings Male Youth Program to its previously all-girls program.
ABOUT TERRI J. VAUGHN:
Terri J. Vaughn has entertained us on television for eight seasons as a series regular. First, she stole America's heart with her lovable portrayal of Lovita Alizay Jenkins on the WB's "The Steve Harvey Show." After that, Vaughn made her way to UPN's "All of Us." Currently, she is a cast member on the hit TBS television sit-com "Tyler Perry's Meet the Browns." Among her film credits are "Three Can Play That Game," "Tyler Perry's Daddy's Little Girls," "Redrum," and "Angels Can't Help But Laugh." Vaughn has been honored with three Image Awards for Outstanding Supporting Actress, a nomination for a 2005 BET Comedy Award, and also nominated for Outstanding Supporting Actress in a Drama Series for her work on "Soulfood."
But, before Vaughn ever had her first audition, she was growing up in a housing project in San Francisco's Hunter's Point district. Today, she is determined to create positive, inspirational and educational experiences for teens growing up in disadvantaged communities. Out of her desire to give back to her community, in 1997, Vaughn started the TAKE WINGS FOUNDATION.
EDITORS:
To arrange pre-event interviews, obtain photos of noted participants, or RSVP (required) for on-site event coverage, contact Toni Beckham | 209-832-8020/408-499-3664 c Toni(at)PRetCetera(dot)com. PRESS CREDENTIALS REQUIRED for admittance.
Press pass entitles holder to media-related activities (photos, video, sound bites) throughout the gala evening; does not include dinner or gala table seating.
###