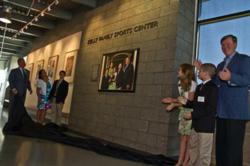 "His teams and victories helped establish the future of athletics for Grand Valley."
-- GVSU President Thomas J. Haas
Allendale, MI (PRWEB) June 25, 2011
The Kelly Family Sports Center was unveiled June 25 in a building dedication ceremony at Grand Valley State University.
The Kelly Family Sports Center, formerly known as the Laker Turf Building, opened in the fall of 2008. Brian Kelly, current head football coach at the University of Notre Dame, was the head football coach at Grand Valley State for 13 years (1991-2003), leading the Lakers to a 118-35-2 mark with two NCAA DII football national championships (2002 and 2003).
The dedication was held before an overflow crowd of more than 400 family, friends and supporters.
In addition to Kelly's 118-35-2 overall mark, he guided the GVSU Lakers to a 103-22-2 Great Lakes Intercollegiate Athletic Conference record. He guided GVSU to five GLIAC titles and six NCAA DII playoff appearances. GVSU won eight or more games 10 times during his 13-year career. Kelly tutored 60 All-Americans during his 13 years at the helm, including a single-season record 11 All-Americans during the 2002 championship season.
"This is a tremendous honor to have our family name adorn such an impressive building that serves multiple departments on the campus," said Kelly. "Grand Valley State will always have a special place in the hearts of Paqui and I because of our history with the school and the way the community embraced our family. Many of our fondest memories stem from our time at Grand Valley and it is truly an honor for all of us to be associated with the university in this way."
The entire Kelly family made an impact at GVSU as Brian and his wife, Paqui, met while both were employed at Grand Valley. Brian was an assistant football coach and Paqui worked in the Financial Aid Office where she served as a financial aid counselor from 1989-1992. Paqui received a master's degree in education from Grand Valley in 1998. Patrick, Grace and Kenzel, the three Kelly children, were born while Brian was the head football coach at GVSU and enjoyed participating in campus activities with their parents.
Grand Valley President Thomas J. Haas said Kelly made great contributions to the success of Laker athletics and to Grand Valley. "His teams and victories helped establish the future of athletics for Grand Valley," Haas said. "So it is only fitting that this building, which serves all our students, should be named for the Kelly family."
The Kelly Family Sports Center is a 138,000 square foot building that houses a regulation football field, a six-lane, 300-meter track, all of the amenities for field events, batting cages that drop from the ceiling, an athletic training room, locker rooms, multi-purpose rooms, classrooms, bleacher seating for 800 in the grandstand and bleachers on the field level for another 260 spectators. In addition to Intercollegiate Athletics, the Movement Sciences department, Campus Recreation/Intramurals and club sports also use the facility.
"Our success in Laker Athletics can be directly attributed to the standards set by Brian Kelly during his coaching tenure at Grand Valley," said Tim Selgo, director of athletics. "Brian and Paqui have continued to express their support and love for GVSU wherever Brian's career has taken them. We are honored to dedicate and name this facility for the Kelly family."
Kelly, inducted into the Grand Valley State Athletic Hall of Fame in 2009, was the head coach at Central Michigan for three years (2004-06) and the University of Cincinnati for three years (2007-09) after leaving Grand Valley. He led Notre Dame to an 8-4 mark in his first year at the helm in 2010.
# # #