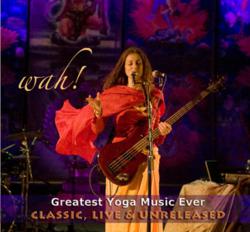 Los Angeles, CA (PRWEB) June 28, 2011
Internationally renowned yoga music guru Wah! will release a highly anticipated collection of her greatest hits, live recordings and unreleased tracks. "Greatest Yoga Music Ever – Classic, Live & Unreleased" will be available on June 28th on iTunes, Amazon, and all digital stores.
Combining a unique mix of pop, world music, reggae and mantra with hip production – Wah! has created an Eastern-tinged, groove-oriented style of music that is uniquely her own. Anchored by Wah!'s captivating bass playing, "Greatest Yoga Music Ever – Classic, Live and Unreleased" offers up 25 inspired tracks including classic fan favorites like Come to Me and Love Holding Love among others. In addition, tracks like Shakti Live capture the unbridled spirit of Wah! recorded live and such previously unreleased tracks as Shakti and Shanti (Free Mix 2.0) will delight fans.
"I've been trying to weave together elements of pop music within the chanting because pop is the heartbeat of American music – and if it's got emotion and a groove – I'm there," says Wah!
A celebrated trendsetter in the yoga world, Wah! is a spiritual pioneer, musician and record label founder who has been touring and recording for over a decade and continues to draw attention in the yoga community and beyond. Wah! is distributed and licensed in the U.S., Argentina, Brazil, United Kingdom, Europe and Australia and she is recognized by such media outlets as Yoga Journal, Yoga + Magazine and UK Yoga Magazine among others as a worldwide leader and creative impulse for the yoga community.
The release of "Greatest Yoga Music Ever – Classic, Live & Unreleased" comes amid anticipation of Wah!'s upcoming Fall release, "Loops & Grooves", which is sure to be her most successful album yet.
TRACK LISTING:
1. Come To Me (Embrace)
2. Dub Version CD Krishna
3. Govinda Gopala
4. Evening Bhav
5. Jai Ma
6. Emptiness.mp3
7. Ganga Ma (Everlasting Love)
8. Dub Version Radhe Bhaj
9. Love Holding Love
10. In This Night
11. Shanti (Free Mix 2.0)
12. Parashakti
13. Har
14. Invocation
15. Midstream
16. One In A Million
17. Shakti Live
18. Shyam Bolo Jai
19. Show Up And Be Heard
20. Is It Love
21. What She Has To Give
22. Fly Away
23. Radhe Shyam
24. Daya Karo Ma
25. Omkar Guru Ma
For additional information please visit: http://www.wahmusic.com/
To preview the album on iTunes, please click here: http://bit.ly/wahmusic
###