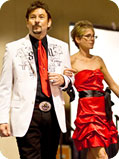 We really feel that a show like this focuses a positive light on ostomies.
Libertyville, Illinois, USA (PRWEB) June 28, 2011
The third United Ostomy Associations of America (UOAA) National Conference ─ to be held August 7-11, 2011 in Reno, Nevada ─ will kick off with a special evening social event: a fashion show exclusively for people with ostomies. The show, hosted by the UOAA, will be sponsored by C3Life.com ─ an ostomy community website, and Hollister Incorporated ─ a leading global manufacturer of ostomy products.
The ostomy fashion show, to be held on August 8 at 8:00 pm in the Rose Ballroom of John Ascuaga's Nugget Hotel, will feature:

Emcee Brenda Elsagher ─ comedian, author, and national keynote speaker
Male and female models of all ages, with ostomies
Comfortable, stylish clothing from a major department store, and ostomy fashion tips that correspond with each outfit
Undergarments and swimwear from Weir Comfees and Glitter Beach ─ both manufacturers of fashionable, high-quality clothing made exclusively for people with ostomies
Light refreshments and raffle items
VIP seating right next to the catwalk
C3Life.com will be posting runway photos and videos, as well as ostomy fashion tips for the C3Life ostomy community after the event.
"We held a fashion show at our 2009 conference and it was such a huge hit that we've decided to do it again," said LeeAnn Barcus, Vice President of the UOAA and one of the organizers of the UOAA National Conference. "We really feel that a show like this focuses a positive light on ostomies. It's great for our members to see how comfortable and confident the models are. "
"C3Life.com and Hollister are very excited to be sponsoring the UOAA Conference fashion show," said Lisa Peterson, Internet Marketing Manager at Hollister Incorporated, and manager of the C3Life website and community. "The show fits very well with our goal of helping people with ostomies live their lives to the fullest."
Anyone can join the online conversation about the ostomy fashion show before, during, and after the event by following C3Life.com and the UOAA on Facebook and Twitter:
Facebook.com/C3Life
Facebook.com/UOAAinc
Twitter.com/C3Life
Twitter.com/UOAA
(use the hashtag #ostomyfashion in tweets about the show, and to search for what others are saying)
In addition to the ostomy fashion show, the 2011 UOAA National Conference will feature:
A first-timers orientation and reception
Exhibits by manufacturers and distributors of ostomy products and services
Workshops and other educational programming for people with ostomies and their caregivers
Other special ostomy events
C3life.com
Ostomy.org
Weircomfees.com
Glitterbeach.co.uk
Livingandlaughing.com
The UOAA is an association of affiliated, nonprofit support groups committed to improving the quality of life for people who have, or will have, an intestinal or urinary diversion (i.e., colostomy, ileostomy, and/or urostomy).
C3Life.com is a community website, dedicated to helping people with ostomies live their lives to the fullest. It features information on lifestyle topics, ostomy-related issues, ostomy products, news, and events. Members can pose questions to a panel of clinicians, share their thoughts on an interactive forum, and submit personal stories, photos, videos, and more. C3Life.com is supported by Hollister Incorporated.
Hollister Incorporated is an independently-owned global company that develops, manufactures, and markets healthcare products, servicing over 90 countries. From the earliest days of the company, there has existed a strong sense of community ─ a connection to people. That connection is embedded within the very fabric of the company. As it continues to develop new products and services, Hollister is focused on meeting the healthcare needs of people throughout the global community.
Hollister is a trademark of Hollister Incorporated.
C3Life.com is a service mark of Hollister Incorporated.
Weir Comfees is a trademark of Weir Comfees.
Glitter Beach is a trademark of Glitter Beach Ltd.
© 2011 Hollister Incorporated.
###