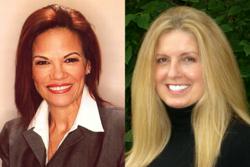 We decided that we were both doing our best and things were going their best when we were with RE/MAX. So we decided that it was time to return to RE/MAX.
(PRWEB) June 26, 2011
Former Sotheby's Affiliates, Janice Corley and Cynthia Bauer, have partnered to open RE/MAX Premier Properties in Chicago's Gold Coast neighborhood. Located at 1205 N. Dearborn St., RE/MAX Premier Properties will serve buyers and sellers in some of Chicago's busiest and most trendy neighborhoods, including the Gold Coast, the South Loop, Lincoln Park, Lakeview and Streeterville.
"We could have chosen to go with any franchise," Bauer said. "But we chose RE/MAX for a reason. Janice and I had a conversation. We decided that we were both doing our best and things were going their best when we were with RE/MAX. So we decided that it was time to return to RE/MAX."
Another factor that brought Corley and Bauer back to RE/MAX was the organization's international presence. RE/MAX is in more countries than any other real estate brand; 84 countries to date.
"Sellers in top Chicago neighborhoods such as the Gold Coast want to advertise their properties not just in the city and suburbs, but across the globe. RE/MAX has perfected that," added Corley.
RE/MAX Premier Properties celebrated its first official day of business June 21 and opened its doors with a staff of 25 agents. But Corley and Bauer have plans to quickly increase that number. Their RE/MAX office has enough space to comfortably accommodate anywhere from 100 to 150 agents.
"Janice's tremendous strength and success in coaching has always made her one of the city's top recruiters of agent talent. Agents love working for her. They love the personal, customized touch she gives to every agent's career plan," said Bauer.
Both Corley and Bauer bring a wealth of real estate experience to their new positions.
Corley has been a top recruiter, producer and manager in the city's luxury homes sector as well as a sought-after personal coach. She owned a Chicago RE/MAX office from 2000 to 2004 and the RE/MAX Northern Illinois region honored her with Excellence in Recruiting and Broker/Owner of the Year, Single Office, awards in 2002. In 2001, her office received the Top Office, Closed Transactions award and was featured on the RE/MAX "Great Offices" series, which was closed-circuit televised, nationally. Corley will continue to focus her attention on recruiting, coaching and business development as co-owner of RE/MAX Premier Properties.
Bauer, who is a well known name and top producer in the South Loop for the past 14 years, will continue her efforts in that market.
The pair expects to enjoy much success at their new location.
"The resources we have with RE/MAX are amazing," added Corley. "RE/MAX has technology and programs that I've never seen with any of the other real estate brands with which I've been affiliated. RE/MAX has always had the best resources."
RE/MAX has been the leader in the northern Illinois real estate market since 1989. The RE/MAX Northern Illinois network consists of 2,300 sales associates and 110 individually owned and operated RE/MAX offices that provide a full range of brokerage services throughout the northern one-third of Illinois. Its http://www.illinoisproperty.com and http://www.remax.com websites are leaders in consumer visits among real estate franchise brands. Its mobile search, m.illinoisproperty.com, allows users to conduct real estate searches on any mobile device with Internet access. The northern Illinois network is part of RE/MAX LLC, a global real estate organization with 90,000 sales associates in 84 nations.
####