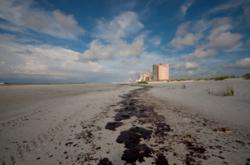 The effect of this oil spill on humans may continue for generations as many different industries, such as the once vibrant commercial fishing industry, are decimated.
Houston, TX (PRWEB) June 30, 2011
The US government strongly urged BP to set up a fund of $20 billion in order to make the payment of claims a simple process. The Gulf Coast Claims Facility (GCCF) was eventually established and funded because of the government's actions. It is managed by Kenneth R. Feinberg (The Claims Administrator), who works for a law firm employed by BP.
To date, only a little over half of the funds that the GCCF started with have been paid out in Gulf oil claims. Many Wall Street banks believe that the actual damages could reach as high as $200 billion for BP. One of the issues with collecting funds from BP, is that Mr. Feinberg who runs the fund does not work for the US government, but for BP itself.
GCCF has established many guidelines and requirements for those wishing to make Gulf oil disaster claims against BP. Some of the documents that need to be presented require either, or in some cases both, an accountant and an attorney to create them. This puts an unnecessary and costly burden on people that have lost their livelihoods, and now are just attempting to survive.
In addition, there have been numerous reported incidences where BP has made very low offers, in many cases only pennies on the dollar, for people making claims to forfeit their rights to them if they accept BP's proposal. For people that are in dire circumstances like many of the ones affected by the Gulf Oil disaster, this places undue stress on them and makes it very difficult to make the proper decision.
The law firm, Brent Coon & Associates (BCA) has established a website titled (http://www.bp-claims.us) for people that find themselves in these situations. At the website you will be able to research all the essential information you require to make educated decisions about your individual BP Gulf oil disaster claims. In addition, if you feel that you require legal representation in this matter, please feel free to contact us for a no cost consultation.
###