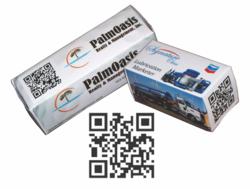 Whether for use at a tradeshow, or just for daily promotions the code is a natural.
Brea, CA (PRWEB) June 27, 2011
QR codes are a new powerful way to get customers or clients to interact with their company via their smartphone. Virtually any information online or email can be made into a QR code, that code can be printed on the box of golf balls creating the ability for someone to scan it and transfer that information instantly.
"Our products have always been designed to promote the corporate customer. The dimension of QR codes furthers our mission to have corporate logo golf balls really promote the customer" says Greg Haxton, President of Golfbox.com. "The nature of logo golf balls as a promotional item is perfectly suited to this type of mobile communication. Our products are used mostly in a mobile environment. Unlike a coffee mug or any other desk item, promotional golf balls are distributed and used in a mobile environment making this strategy particularly effective" remarks Haxton. "Whether our customer is at a sales call, at a tradeshow or convention or out on the golf course, the code is a fast way to promote or convey contact information, communicate goods and services, or offer discounts or special offers".
QR codes can be made to do many things. For example, the code can direct a smartphone go directly to a webpage. That webpage can have discounts, coupons, be informative or be contest oriented. They are also useful in getting contact information directly into smartphone contact files for contact at later time. New codes can be generated and changed as much as the information needs to be changed.
Haxton notes "Our ability to insert different codes into a customer order can mean a whole new twist in doing promotional contests, downloading coupons or discounts, getting trade-show visitors your contact info and scores of other uses".
Golfbox is offering the free service of creating these codes for any of their business customers. The codes can be printed onto any of their custom packaged logo golf ball products. Printing the code in the color of the corporate logo is also available, once again at no extra charge.
Founded in 1996, Golfbox.com is considered the industry leader in logo golf ball promotions. The company was the first to offer logo or informative packaging for all orders of logo golf balls.
A video presentation of their capabilities, the benefits of their products and more can be found at http://www.golfbox.com/video.php
Greg Haxton
http://www.golfbox.com
714-854-0011
greg(at)golfbox(dot)com
2761 Saturn Street, Unit E
Brea, CA 92821
###