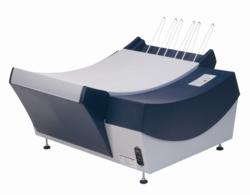 The EcoTank is the economical and ecological choice in x-ray film processors for veterinary practices.
Saint Charles, IL (PRWEB) June 28, 2011
FI Sales, LLC of Saint Charles, IL is pleased to announce the availability of the EcoTank, the world's simplest veterinary x-ray film processor. Designed for the low x-ray film volume veterinary practice, the EcoTank offers veterinary practices an alternative to expensive digital imaging and high maintenance cost automatic processors.
Not every veterinary practice can afford the tens of thousands of dollars required to purchase a digital imaging system. The alternative has always been traditional automatic x-ray film processors, but they don't always provide good image quality if used sporadically. The EcoTank offers an economical alternative for the low film volume veterinary practice.
Traditional automatic x-ray film processors operate at a temperature typically in excess of 90 degrees F, diminishing the chemical's efficacy very quickly, requiring continual replenishment with fresh chemicals. Using patented technology, the EcoTank operates at a lower temperature of 72 degrees F, normal room temperature, eliminating the need for chemical replenishment and reducing overall chemical use by at least 50% as compared to traditional automatic x-ray film processors. For full details on how and why the EcoTank works in an economical and ecological manner, view this EcoTank Introduction and FAQ.
Installation of an EcoTank is simple. There is almost no assembly! At under 60 lbs, the EcoTank can be lifted right out of the box by 2 people and placed for installation on a tabletop, counter or optional stand. The Quick Start Instructions are simple to follow to get the EcoTank operational immediately, providing quality images while saving on chemicals, water and electricity for the veterinary practice.
No plumbing is necessary for the EcoTank to operate properly. No drains or a water supply are required. Veterinary practices now have the versatility to locate their x-ray film processor wherever they want with No Plumbing Required!
Available from the FI Sales ebay store at under $2500 delivered to your door, the EcoTank is the most economical and ecological x-ray film processor for low film volume veterinary practices available today.
###