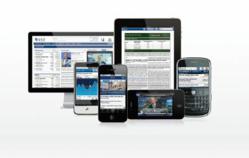 Since joining CarryQuote last year, Christian's leadership and industry expertise has been instrumental in accelerating our company's growth and success.
Zug, Switzerland / New York, NY, U.S.A (PRWEB) June 28, 2011
CarryQuote AG, a pioneer in real-time mobile financial information solutions, today announced that it has appointed Christian Erlandson as the company's Chief Executive Officer. In this role, Mr. Erlandson is responsible for driving the company's strategy, execution, and performance, as it continues its path of aggressive, worldwide growth.
As a 20-year industry veteran, Mr. Erlandson assumed the role of CEO in April of this year, previously serving as the company's Global Head of Sales. Prior to joining CarryQuote, Mr. Erlandson had been the UK Head of Sales for Thomson Reuters, where he lead a team of over 100 sales specialists, driving more than $1 billion in annual revenues. Previously, as Reuters' Head of Investment Management for EMEA, Mr. Erlandson optimised the company's business model, managing and growing a revenue base of approximately $275 million. Before joining Thomson Reuters, he played a key role in driving annual revenues of the high-growth financial technology company Multex, and held senior leadership positions growing the financial content company, Primark Corporation, into a global business that was ultimately acquired by Thomson Corporation for $1 billion.
"Since joining CarryQuote last year, Christian's leadership and industry expertise has been instrumental in accelerating our company's growth and success," said Lars Tvede, CarryQuote's co-founder and director. "As CEO, Christian is now positioned to apply his skills and experience in an even broader capacity, driving excellence and continued growth across all areas of the company. I am very pleased with the achievements we have already realized under his leadership, and very much look forward to the company reaching new heights of success."
"CarryQuote is in a very exciting stage of its development," said Christian Erlandson, CarryQuote's CEO. "In less than a year, we have launched three major products, we have expanded our global sales force and geographic footprint, and we have engaged some of the largest, most influential firms in our space, most notably CNBC. Still, our greatest accomplishments have yet to be achieved. With the explosive growth of smartphones and tablets over the past year—growth which is expected to accelerate during the coming years—CarryQuote's unique ability to provide white-labeled native apps across all mobile platforms places us in an extremely favorable position to meet and exceed current marketplace demands, and I am thrilled to lead our incredibly talented global team, helping ensure CarryQuote's continued success."
Mr. Erlandson succeeds Michael Stennicke, who had served as CarryQuote's CEO since 2006, and who had stepped down in April to pursue new projects. Mr. Erlandson added, "Michael is truly a pioneer in our industry, and over the past four years under his leadership and vision, CarryQuote has made some extraordinary achievements. We are grateful for his years of dedicated, tireless service, and for bringing CarryQuote to where we are today."
About CarryQuote
CarryQuote® is reinventing the way financial institutions and individual investors access, consume, and deliver financial information. Tailored for today's always-on mobile culture, CarryQuote's award-winning mobile applications are the first-ever to cost-effectively deliver real-time global financial information and proprietary research to any smartphone, pad, or computer. The Company's private-label solutions offer users integrated mobile and web access to every major exchange in real-time, covering all asset classes and over 95 percent of the world's markets. In addition, CarryQuote solutions provide CNBC news, on-demand video, and live TV, as well as analytics and charting. CarryQuote uses a unique mobile SaaS-based technology that is compatible with all five major mobile platforms—iOS, Android, BlackBerry, Symbian, and Windows Phone—ensuring access to critical financial information, whenever and wherever it is needed. For more information, please visit http://www.carryquote.com.
###