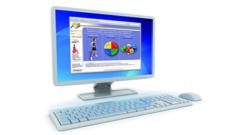 Recent top Thera-Band Academy blog posts were about FlexBar exercises for tennis elbow and golfers elbow.
Akron, OH (PRWEB) June 24, 2011
The Thera-Band Academy blog provides quick and convenient updates on the Academy's research and educational content. The blog features summaries of articles and links to the Thera-Band Academy resources including research abstracts, articles and exercise programs.
"Using a blog allows both professionals and consumers to keep current on the evidence-based application of Thera-Band and Biofreeze products through regular email updates,' stated Phil Page, PhD, PT, ATC, FACSM, CSCS, Director of Clinical Education and Research for Performance Health. "Using this blog, our clinical team provides up-to-date information from the physical therapy, chiropractic, massage therapy, athletic training and podiatry disciplines for both clinical and non-clinical subscribers." To subscribe to the blog click here.
Dr. Page continued, "As an example of its wide audience and application, recent top Thera-Band Academy blog posts were about FlexBar exercises for tennis elbow and golfers elbow developed by physical therapist Tim Tyler. The 'Tyler Twist' has helped hundreds of people with tennis elbow based on the numerous comments posted on the Internet. Tim's new "Reverse Tyler Twist" for golfers elbow looks to be as promising as he completes his clinical research on the exercise."
Here are the links to these favorite posts - Reverse Tyler Twist with the Thera-Band FlexBar for Golfers Elbow and Tyler Twist FlexBar Exercise Featured in New York Times.
Dr. Phil Page directs the Thera-Band Academy. He is a licensed physical therapist and certified athletic trainer. His clinical and research interests include the role of muscle imbalance in musculoskeletal pain and in promoting physical activity in older adults. He has presented internationally on exercise and rehabilitation topics, and has numerous publications. He has a master's degree in Exercise Physiology and a PhD in Kinesiology. He is also a certified strength and conditioning specialist. He has worked with the athletic programs at LSU, Tulane, the New Orleans Saints and Seattle Seahawks, as well as the United States Olympic Track and Field Trials.
About the Thera-Band Academy
The Thera-Band Academy was formed to scientifically document the benefits of resistance exercise and pain relief, guide the company in its development of new product and exercise programs, and to promote therapeutic exercise and pain management through professional and consumer education. The Academy web site is a unique resource that connects healthcare professionals and consumers to the ever growing body of knowledge on exercise. Registration is free and provides access to the largest database of rehab exercises, protocols, research and education in the world.
About Performance Health
Performance Health is a leading designer, manufacturer and marketer of a broad portfolio of products for the therapy, rehabilitation, massage, wellness and consumer retail markets. Maker of market-leading Thera-Band®, Biofreeze® and Perform® products, Performance Health provides evidence-based protocols, education, turn-key dispensing and pain management solutions.
###