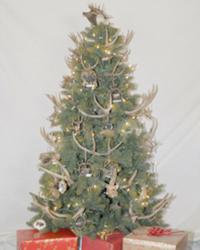 After 2 years in development and multiple stories of perseverance, the peerless Buckhorn Pine Antlered Christmas Tree is in full production and ready to be shipped.
Dubois, WY (PRWEB) June 27, 2011
Ben Barto, co-artist-in-residence and co-entrepreneur of Barto Wildlife Collectables, the widely recognized Wyoming wildlife artist and product inventor, with considerable pride and excitement announced that their patented, ingenious Buckhorn Pine Antler Christmas Tree, after years of trial and error in development and multiple stories of perseverance, was in full production and for sale. It is a Christmas tree NEVER seen before!
The one-of-a-kind, luxuriant BUCKHORN PINE ANTLER CHRISTMAS TREE stands 6' tall and consists of 26 antlers, which are resin cast from individual, genuine deer antlers and artificial pine branches. The antlers are painted the exact true color of authentic deer antlers. But! Unlike mass produced antler novelties, no two antlers on the Buckhorn Pine Christmas Tree are alike. It's almost impossible to tell the difference between real antlers and Ben's, which are resin cast in 26+ different molds. Lush greenery fills the spaces between the antlers so there are no visibility holes or empty spaces – it's impossible to peer through to the tree's other side.
Fully constructed, this incredible antlered Christmas tree measures 6' tall, 42" round at the base and holds 250 lights and over 500 ornaments. Both antlers and branches are numbered to match the trunk's holes for easier assembly. It takes less than 25 minutes to assemble a Buckhorn Pine Antlered Christmas Tree. The tree is lightweight, portable, durable and made from flame retardant materials that last a lifetime. With proper care and storage, the Buckhorn Pine Antler Christmas Tree easily becomes a family's prized heirloom.
As Ben expanded his artwork, he realized he needed a display unit that highlighted the variety of Christmas ornaments he'd created: something that would attract even the idly curious and would be an asset for retailers. Eventually, his inventive skills led him in two directions: a marketing display unit for his Christmas decorations and, now, his Buckhorn Pine Antler Christmas Tree. For the marketing display, Ben had retailers in mind. He built his display with antlers - complimenting the antler theme - since his best selling designs were 'wildlife with antlers' ornaments and memorabilia. Each item could be stacked on its own peg. This was particularly important for some of the antlered designs. Several of the antlers have points over 12" long and stacking reduced the problem of restocking.
However, the eye popping Buckhorn Pine Antler Christmas Tree is the centerpiece for the company's 'wildlife collectables with antlers' gifts products. One day Ben began experimenting. He took a round 6' post and started screwing antlers to it. Then he chopped off the branches of Sherry's artificial Christmas tree. He drilled holes in the post between the antlers and filled greenery all the way up the tree. Finally, he took one of his elk statues and placed it on top for his Angel Elk. According to Ben, he was pleased with the effect, and he thought he had not only their display centerpiece but a-never-seen-before Christmas tree to sell! "But!" exclaimed Ben, "So I thought! WRONG! From conception to the tree you're looking at today, it took 2 years of research, development… even a trip to inland China to find a tree factory that could design a tree to accommodate my antler design." To top his or any Christmas trees off, Ben designed wildlife angels. Currently, Barto Wildlife offers an elk, a moose, a Whitetail or a horse head tree topper. His exclusive and copyrighted tree toppers fit both real and artificial trees using his invented special attachment that accommodates both applications. Work has already begun on a second Christmas Tree design that will target which is going to be made with European Fallow deer antlers for a foreign market.
Barto Wildlife Collectables sells an assortment of wildlife and antler mementos. Ben, a self taught artist with deep respect for wildlife, began carving belt buckles out of real horn 35 years ago, and he's been expanding his repertoire since. He's an au naturalé inventor. He learned to mold and cast when he purchased a small resin business back in 1980. He creates the mold and casts the original sculpture. When Ben started adding antlers to some of his wildlife pieces, it definitively created his signature style and set him apart from other artists.
Sherry, Ben's wife, co-business partner and – also - a self-made artist, who shares her husband's deep love for the wildlife around them, hand paints the first coat of each original creation. Other artists, whom Sherry trains, complete the hand painting process. Ben creates each original, initials it with his BCB, copyrights it and makes the master mold. As with his Buckhorn Pine Christmas Tree, the future European Fallow Deer Antler Christmas tree and Christmas ornaments, each product passes through 42 detailing steps and inspection points. Each item created at Barto Wildlife Collectables is an original, stand alone, artistic collectable. His novel and genuinely original imagination appeals to a wide-ranging and diverse consumer market.
Product name: Buckhorn Pine Antlered Christmas Tree. The tree has a provisional patent. Measurements: The tree is 6' tall with a 42" round base and holds 250 lights plus 500+ ornaments. Materials: Flame retardant resin cast antlers and flame retardant branches. Features: Easy to store, easy to assemble, light weight, durable. Suggested Retail Price: $795.00. Date Available: Immediately. FOB: Dubois, Wyoming.
About Barto Wildlife Collectibles: The company is a celebration and showcase for Ben and Sherry Barto's "wildlife collectables with antlers," nonimitation creations that are usable, such as: knives, bolos and buckles, pins, magnets, wine and candle holders, salt and pepper shakers and Christmas ornaments. For more information about Barto Wildlife Collectables, please email barto(at)wyoming(dot)com. To view their inventory, please visit http://www.bartowildlifecollectablesinc.com. Inquiries from retailers are always welcomed.
Contact:
Ben & Sherry Barto
barto(at)wyoming(dot)com
Tel: 307-455-3272
Fax: 307-455-3285
Barto Collectables
P.o. Box 1104
Dubois, WY 82513
http://www.bartowildlifecollectablesinc.com/
###