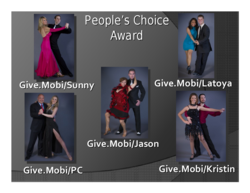 67 new first time donors in one week is huge for a small local non profit. Give.mobi made it possible.
Tulsa, OK (PRWEB) June 28, 2011
Give.mobi, innovator of fast, affordable, mobile web fund-raising solutions and Hospitality House of Tulsa (HHT) today announced the mobile fundraising results of HHT's annual fundraising event, A Time to Dance with Our Stars.
"We wanted to include a mobile fundraising component for our event, but as a small local nonprofit, we are not even eligible to use Text Giving technology," says HHT CEO Toni Moore, Give.mobi allowed us to easily and affordably set up branded web apps that our local celebrity dancers promoted through social media attracting 67 first time donors to help families in medical crisis."
"Small local non profits have been left out of the mobile technology game until now," says Give.mobi CEO, Bob Jones. "We are thrilled to be helping Hospitality House of Tulsa find and cultivate new donors."
Give.mobi is fast and simple for donors and captures donor identity information so nonprofits can engage and communicate with their new donors, unlike Text Giving which treats all donations as anonymous.
"I was especially pleased that Give.mobi works from any phone or tablet device without the necessity of being downloaded from an app store," said Moore, "interested supporters were able to take action immediately upon reading our social media Calls to Action."
"The Give.mobi gifts averaged out to $41 each, proving that most mobile givers will give more than $10 dollars when given the chance," said Fred Emmer, Give.mobi Co-Founder and V.P. of Business Development.
Persons interested in supporting Hospitality House of Tulsa may make a gift or pledge by visiting give.mobi/hhot from their web enabled smart phones.
Give.mobi allows any IRS designated 501(c)(3) nonprofit to easily and affordably launch a universally accessible, branded mobile donation portal in minutes that provides donor identity information, real time results reporting and integrated social media sharing.
###