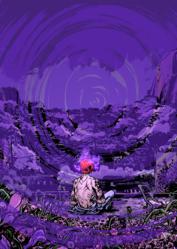 The art is riveting and provides contrast between pristine Singapore and the wild outside world. This
is a Biopunk must have.
Pasadena, CA (PRWEB) June 27, 2011
Fluorescent Black, a wildly popular science fiction comic printed first as a periodical in Heavy Metal Magazine and later as a collected novel, will now be released in European territories, in three different languages: Spanish, French and English. French printer Bragelonne and Spanish printer Norma Editorial will be releasing the books in October of 2011.
After being sold out at Comicon New York and Comicon San Diego 2010, publisher Heavy Metal Magazine has licensed Fluorescent Black publishing rights to France and Spain. The novel is listed as #3 on MTV Geek's top 10 collected editions of 2010 and received the Golden Addy award for design. Both Bragelonne and Norma Editorial will publish and distribute MF Wilson's graphic novel Fluorescent Black in October of 2011.
The novel is nearly 200 pages long and is part one of a 3 part trilogy written by MF Wilson, illustrated by Nathan Fox and colored by Jeromy Cox. Fluorescent Black is one of the most popular stories featured in the adult illustrated Heavy Metal Magazine and has a massive cult following. "European audiences are gonna go crazy for this book.We can't wait for them to see it." says Kevin Eastman,
Editor-in-Chief of Heavy Metal Magazine. The novel takes the reader into the hard-hitting dark future of South East Asia where gene-tech has divided the human race into two races. A distinctive element of Fluorescent Black is that a utopian and dystopian future exist in near proximity. The story explores hotbutton themes like border disputes, public healthcare, gene patenting, eugenics, the dangers of bioartistry, and the limits of body modification. Known for it provocative ideas and scientific accuracy, Fluorescent Black has been praised by biotechnology web rings and counter-culture magazines as a seminal "Bio-punk" novel, a relatively new genre which has been slowly working it's way into the literary and cinematic marketplace.
MF says, "I wanted to write this story for all the things it is guilty of; it's hard-core, violent, sexual and frightening. It's venereal horror, bio-punk and psychedelic science fiction all rolled into one." It was the perfect material for an illustrator like Nathan Fox who has built a fan base out of his featured work in rock-and-roll magazines and adult comic books, and is known for his kinetic freehand and raucus style.
Every panel is a work of art, with hidden (sometimes blush-worthy) details that only become apparent on a second or third read. "I wanted this book to be wild and colorful; it had to be a living, moving thing." says Fox. The collaboration between these artists has produced a one-of-a-kind novel that is well worth the price tag.
MF Wilson is a writer/director who was born and raised in Los Angeles. During his childhood, he found himself drawn to the counter-cultural elements around him; punk rock shows, horror movie conventions, underground art galleries and skate parks were MF's haunts throughout his teenage years. Meanwhile, he immersed himself in visual arts and filmmaking classes at Crossroads School for the Arts and Sciences, Art Center College of Design and at the University of California at Santa Barbara where his short horror film "Lullyaby" starring Tobin Bell received the Corwin Award. MF just finished directing second unit on 'No Room For Rockstars" the Van's Warped Tour documentary about the punk rock scene. MF Wilson also shot derivative content for Warner Brothers' "H+" series produced by Brian Singer. MF is currently writing and directing a short film "The Final Moments of Karl Brandt" produced in partnership with Level 256, an upstart visual effects company based in Los Angeles.
Fluorescent Black was conceived somewhere on Hollywood Blvd. between Las Palmas and Orange. As MF sat on the sidewalk and watched the people go passing by, he began to wonder what would happen if the differences in the population became exaggerated through years of genetic modification. As an avid fan of the often overlooked "Biopunk" genre, MF jumped head-first into creating the near future world of Fluorescent Black, a world polarized by genetech.
"It's comic art and storytelling at its finest and I implore you to find any way you can to get your hands on this book. Beg, borrow, kill, or steal to find this thing. It's worth the mayhem you'll cause to get your hands on it because what's waiting inside is beyond any kind of crazy you'll be able to think up yourself." -Ain't It Cool News
"Writer M.F. Wilson's psychedelic sci-fi senses blend with artist Nathan Fox's raucous linework to create a unique collaboration evoking Bladerunner, Heavy Liquid, and The Fifth Element. "- Newsarama.com
"The art is riveting and provides contrast between pristine Singapore and the wild outside world. This is a Biopunk must have. " -Genome Alberta
"The book (Fluorescent Black) is like an orchestra of speculative storytelling. Which is to say none of the elements feel out of place. I can't recommend it enough." -Robert Venditti, creator of Surrogates
"If there's two things Fluorescent Black undeniably succeeds at, it's visceral beauty and its overabundance of ideas. " -Read/RANT
Fluorescent Black - The Graphic Novel
MF Wilson - Creator/Writer
Nathan Fox - Artist (Pigeons From Hell, DMZ, Dark Reign: Zodiac & more)
Jeromy Cox - Colorist (New Mutants, DMZ, Amazing Spiderman, Teen Titans, Vampyrates, Promethe
A visceral ride through a bio-punk future where life is cheap and death is the only way out. Welcome to 2085, the year of the rabbit. Fluorescent Black takes the reader into the hard-hitting dark future of South East Asia where gene-tech has divided humankind into two races: the rich, healthy Superiors and the sick, crazy Inferiors. These two races live in neighboring cities separated by a heavily fortified border. A superior named Nina is the test model for cutting edge genetic designs. She is a paragon of physical and mental health: her brain and body represent billions of dollars worth of corporate research and development. During a bio-terrorist attack, Nina is kidnapped by a street gang who take her across the border into a ghetto full of manmade splice animals, psychopathic hookers, drug addled freaks, deadly insects, poisonous ecosystems, and abandoned tenements.When the corporations tighten their dragnet, the gang quickly discovers that this is no ordinary captive... but she may be the key to solving all of their problems.
For more information visit: http://www.freethegene.com
Contact: Joan Sweeny
Email: Garbo001(at)verizon(dot)net
# # #