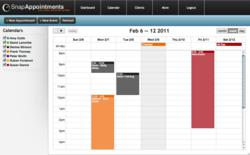 It's only a matter of time before making appointments online is the standard for virtually every appointment-oriented business in the world.
San Francisco, CA (PRWEB) June 27, 2011
Consumers are shopping online, making travel arrangements online, attending classes online, and now they're starting to book appointments online. Several new websites offer service-based businesses the ability to accept appointments online using cloud-based technology. The advantages are numerous to both businesses and their clients, not the least of which is simply convenience. People looking to make appointments can browse openings 24/7 and select an open time that works best for them, eliminating effort and saving time on both sides of the appointment-making process.
"It's only a matter of time before making appointments online is the standard for virtually every appointment-oriented business in the world," said Brock Holzer, co-founder of SnapAppointments.com, 2-time defending Rackspace "King of the Apps" winner. "Nobody wants to call their dentist over their lunch hour and wait on hold for 15 minutes just to make an appointment," Holzer added. As one of the newest entries into the market, SnapAppointments launched at SXSW in Austin in March 2011 and just recently passed the 1000 registered businesses mark. SnapAppointments offers an online appointment service that has been compared to GenBook.com. Both companies provide the same basic service, but that's where the similarities end. GenBook offers a free trial and after that they charge a very fair monthly fee to businesses that continue to use their service. SnapAppointments is providing their basic service at no charge and offers premium features as options that can be tacked on to provide additional functionality such as advanced reporting and data encryption packages. SnapAppointments also has a stronger focus on the customer or client side of the process, providing an appointment search engine on the main page of their website. GenBook's homepage is clearly a marketing page directed strictly toward businesses. At this time, GenBook has more detailed information about their product on their website. Neither service charges a businesses' customers to book appointments.
"Our focus has been on developing the best online appointment system available and incorporating powerful additional tools to help small businesses manage their entire business from one place," said Cody Harris, SnapAppointments co-founder. "As the new kids on the block, we knew we would be compared to existing companies offering similar services and we wanted to set ourselves apart from everyone else before we began aggressively marketing our product," Harris continued.
When asked who they think will come out on top in the end, Harris and Holzer said they welcome the competition and feel the market is big enough for multiple online appointment companies to be successful. SnapAppointments will defend it's "King of the Apps" title at TechCrunch Disrupt in San Francisco in September. "Of course we feel we offer the best product, but one thing is for sure," Holzer added, "online appointments are here, and they're here to stay."
###