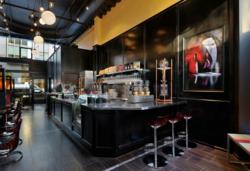 Each bottle is being hand-selected and tested to assure the small producers meet the café's high standards
(Vocus/PRWEB) June 26, 2011
Ma'Velous, the new San Francisco wine bar on Market Street, is proud to present a new wine menu that includes fifty boutique wines that are sustainably grown. The diverse selection includes sparkling wines, three categories of whites, three categories of reds, rosés and dessert wines. Ma'Velous' new menu features wines from Napa, Sonoma, and around California and Nevada, as well as imported wines from France, Spain, Italy, Germany, Argentina and New Zealand. Many are available by the glass or the bottle.
"Each bottle is being hand-selected and tested to assure the small producers meet the café's high standards," said Phillip Ma of Ma'Velous.
Selections from the new menu include the following:
Ma'Velous now offers Cabernet Franc Rosé, from Louis de Grenelle, Saumur, Loire Valley. This bubbly wine has very low dosage (sugar added to start fermentation), so the natural flavor of the Cabernet Franc truly shines. The French wine is refreshing and refined, and the flavor is bright with notes of crisp strawberries.
An excellent crisp white wine is Albariño from Pazo de Señorans Rias Baixas, Spain. This 2008 vintage has notes of mineral, lemon, honey and tropical. "This is an OUTSTANDING example of the best that Rias Baixas has to offer!" says Ma. Pazo de Señorans is often considered the year-to-year best producer of Albariño.
A favorite local wine is Pinot Gris from Carmel Road in Monterey, California. Pinot Gris and Pinot Grigio are the same grape; however, when it takes the tag "Gris," it typically comes from the Alsace region of France. Local producers use the "Pinot Gris" tag when the style of the wine is more Alsatian than Italian. The taste is richer and more tropical with a heavier mouth feel. This 2009 vintage is available by the glass or by the bottle.
Ma'Velous loves a good Pinot Noir, and the new menu includes Mohua, from Central Otago, New Zealand. "Central Otago is where Lord of the Rings was filmed—so you have an idea of the dramatic nature of the terrain," explains Ma. This 2008 New Zealand wine is a cross between the fruit forwardness of California wines and the earth dominated wines of Burgundy. The fruit is on the lighter side—think strawberry and cranberry—while the spicy earth tones shine right next to them.
A stunning full-bodied red is Cabernet Sauvignon from Anakota Vineyard made with Dakota Vineyard grapes grown at Knights Valley at the foothills of Mount Helena in Sonoma County. The fruit-forward flavors begin with red berry enhanced by a slight hint of wood. Helena Dakota's fruit continues to unfold, with chocolate, coffee and a signature truffle flavor. The impressive structure of this wine, coupled with soft tannins, lends to a long, refined finish.
For dessert, Ma'Velous offers Ruby Port, Quinta do Noval, Black. The taste is purple and sweet but very balanced, not cloying. Port houses are either owned by Portuguese families or English families. The Portuguese houses (of which Noval is one) tend to be more elegant, while English houses are more robust. Ruby ports don't spend time in oak—hence their deeper purple color—and pair well with chocolate and strong cheese.
Ma'Velous offers regular tastings to allow wine enthusiasts to acquaint themselves with some of the more uncommonly known international wineries. The wine and coffee bar also offers live music and happy hour specials.
For more information about the new wine menu or any of Ma'Velous' products or services, call them at (415) 912-1039, view them on the web at http://www.MaVelous-sf.com, or visit them in person at 1408 Market Street in San Francisco.
About Ma'Velous Wine and Coffee Bar
The vision of Ma'Velous is to share some of the best ingredients the earth has to offer, by bringing roasted coffees and boutique wines from around the world to San Francisco, and by utilizing their vast culinary resources in Northern California. The select seasonal menu concentrates on celebrating the small sustainable farms, roasteries and wineries.
###