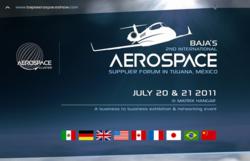 "…Honeywell engineering facility in Baja California with approximately 300 Mexican engineers are responsible for full simulation and test of Honeywell's airbus A350 control system."
-- Ian Godden – Chairman Alan Fisher, International Development, AD
Tijuana, Mexico (PRWEB) June 27, 2011
Over $2 billion U.S. dollars of supply chain opportunities will be the center of the second Annual Baja California International Aerospace Supplier Forum. Baja California and San Diego´s Aerospace industry leaders, economic development agencies from both sides of the border and government officials of the State of Baja California announced that the forum will take place on July 20-21st, 2011. The event will be held in one of the largest airplane maintenance facilities in Latin America, within the Tijuana International Airport.
Tijuana EDC, June 13, 2011. Mexico has become an ideal partner for the "high mix/low volume" aerospace industry. In the last 10 years exports have grown over 15 times, from 270 million in 2001 to an estimated 5 billion in 2010, and it is expected to double within 5 years. Baja California has become Mexico's #1 aerospace manufacturing region. With over 13,000 skilled workers concentrated in more than 51 companies, Baja California represents 50% of the total employment of Mexico in this industrial sector.
The Baja Aerospace Forum is the premier Business to Business event in northwest Mexico for the Aerospace and Defence Industry. It will include presentations from industry leaders such as John Walsh, President Walsh Aviation and other top executives from Eaton and Bombardier. For Aerospace suppliers on both sides of the border, the event offers personalized B2B meetings with leading purchasing companies such as Eaton Aerospace, C&D Zodiac, Tyco Electronics, Delphi, Parker, Honeywell, Bourns, Goodrich, Gulfstream, and GKN, among others.
Prior to the event the Tijuana EDC offers an industrial tour to manufacturing facilities of key companies from Tijuana´s aerospace sector, including visits to Eaton and Zodiac. Participants of the tour will learn firsthand about the manufacturing capabilities available in the region as well their supply needs.
During the last five years the number of companies based in the state of Baja California has grown 30%, just in 2010 employment rate has been increased due to the expansions of Cobham, Zodiac, Eaton and CST.
The Baja based industry positions itself as a specialized manufacturing hub in sub processes. The processes with the highest demand are those related with metal mechanics such as metal stamping, machined parts, coating and finishes, heat treatment and rolled parts among others.
The private sector represented by the Tijuana EDC and Mexicali IDC, plays an active role in this event collaborating with State government and regional aerospace cluster. These organizations provide at no cost information to those investors interested in expanding operations to Mexico. This effort is being supported by their members that are recognized as leaders in legal, accounting, financing, shelters, among others services.
Companies interested in participating in the industrial tour, please contact the Tijuana EDC at contact(at)tijuana-mex(dot)com, or call 619-207-4683.
Companies interested in attending the forum and learning about the supply needs of this industry should visit the event website http://www.bajaaerospaceshow.com or call toll free from the US 855-225-2243.
About Tijuana EDC: The Tijuana EDC is a nonprofit corporation dedicated to help companies to establish successful manufacturing operations in Mexico and to take advantage of business opportunities of vertical integration introducing qualified Mexican suppliers and accessing new markets. For more information on how to take advantage of these opportunities contact the Tijuana EDC at contact(at)tijuana-mex.com or visit their website http://www.tijuana-edc.com.
# # #