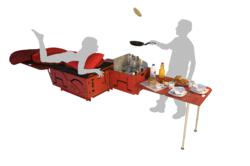 swissRoomBox®, the world's smallest removable motor home set up fitting most cars
Collombey, VS, Switzerland (PRWEB) June 28, 2011
Multi-functions "home on board" device
The ultimate camping equipment for travelers, leisure and sport people. swissRoomBox® a unique model that will enable you to transform the modules into the shower, kitchen, bed and dining room in less than 5 minutes and without tools! The swissRoomBox® offers the comfort of hot water, gas, and electricity in 220V, 12V and 5V USB while its intelligent system of voltage control monitors your car battery.
15 minutes in/out
swissRoomBox® an ingenious modular system that remains simple to use. Without any modification on your car, in less than 15 minutes, it mounts and dismounts easily if you wish to use the trunk space of the vehicle for other purposes. In the closed position, its minimum volume enables the use of all passenger seats during the trips.
Swiss Quality
All the technology of a camping-car gathered in 4 clever modules. Designed and manufactured in Switzerland, the swissRoomBox® embodies a concept of quality that includes the reliability, precision and robustness of the chosen material and all the technical equipment.
Where to buy
The swissRoomBox® is on the market from 2011 and is available in Europe by ordering on the company web site : http://www.swissroombox.com
Your car becomes a camping-car for a more affordable budget than buying a standard recreational vehicle (approx. 10 time more expensive).
Watch the youTube swissRoomBox® video
# # #