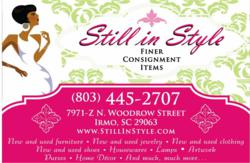 I was looking for a dress no longer in stock; I was referred to Still in Style. Not only did I find the dress, but all the accessories! I am hooked; I don't think I will be paying retail prices anymore. This store is amazing!
Irmo, SC (PRWEB) June 28, 2011
Vintage and modern labels fill the shop. Recently partnered with the Alala Cancer Society of Greater Columbia, Still in Style now carries Ball Gowns in all sizes ranging from 2-24. The Alala Cancer Society of Columbia, SC consigns large lots of beautiful short and long gowns in a variety of colors. A percentage of all the gowns that are sold are donated to help fight a disease that has afflicted so many. Additionally, any item consigned that doesn't sell within the 90 day period, with the customer's permission, is donated to "Sister Care." They pride themselves on helping the community in some small way, as well as serving the customer who is on that "Still in Style" budget.
Being Pioneers, Still in Style, strives to be different from other full-line consignment stores. They carry women and men shoes, clothing, home décor, and furniture. Many consignment stores do not carry masculine items, but in their desire to be trailblazers, decided to appeal to male consumers. They carry men's new and gently used shoes and sneakers, casual and dress shirts, suits, ties, polo shirts, and a large variety of jeans. Brands such as Carole Little®, Old Navy®, Talbots®, still have the tags on them. In men's footwear they carry lines such as Stacy Adams ®, Puma sneakers ®, and other popular brands.
Absolutely pleased to find rare and unique items no longer found in local department stores, the owner, Roz, decided to share her unique talents and offer those findings to you. With a background in customer service, both Roz and her daughter, whose detailed eye knows just what a customer needs, are there to greet clients as they walk into the shop. They strive to make customers feel a sense of pride through the store displays, placement of the merchandise, and the overall attractiveness of the store. The new store has a variety of furniture, bric-a-brac, and unique collectibles sure to trigger the imagination of many in this special corner of the world.
With over 1500 feet of showroom space, the store has room to display items you desire to consign, showcasing them in their best light, allowing them to receive their best price. All are invited to join in celebrating the grand -opening on July 9st, 2011 from 11am to 4pm. They will be having a huge sale for the event and are looking forward to introducing their new facility to the neighborhood. This is the best place in the area to find rock bottom prices on beautiful and unique designer furniture and clothing.
"Many have donated good quality clothing to charitable organizations, in the past but in today's economic climate, more people are turning towards consignment as a cash earning alternative when cleaning out their closets." In turn, more consumers are looking for alternatives to mainstream department stores. Shops are seeing as much as a 20% increase in sales this year.
Find a unique line of;

Wedding Dresses
Prom Dresses
Bridesmaid and Ball Gowns
Men's Suits
Men's Jackets
Women and Men's Shoes
Purses and Accessories
Jewelry
Bed and Bath
Appliances
New and Used Furniture
Art
Crystal Glassware
Men and Women's Clothing
Bric-A-Brac
Gifts
Located across from the Bi-Lo Plaza
Still In Style
West Friarsgate Plaza
7971-2 N. Woodrow Street
Irmo, SC 29063
(803) 445-2707
Thank You for your business!
###