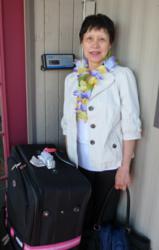 No more worries about luggage weight... thank you Wiki Wiki for this service. I told my husband that I have 5 pounds to spare...HA!
(PRWEB) June 28, 2011
Offsite Bellingham Airport Parking, Wiki Wiki Park n Shuttle shares a recently received email. Hi Velma & Ernie:
This is my review, you can post it however you like and "Oh, I know Ernie was in the mist of getting it done, but if you can get a scale of some type, it would be awesome (and save me an embarrassing 10 minutes re-packing my luggage since it was overweight at check- in at the Bellingham International Airport.)"
"Velma and Ernie at WikiWiki Park n Shuttle will always get my business and referrals in the future for suggested Bellingham Airport Parking. While there are other places out there, their personal touch was what got me; I was greeted on a first name basis, they had drinks when I got there, they picked me up and asked me about my trip and even coffee and water when I picked up my car.
I am more than happy to pay and support the Small Businesses in Bellingham. These are friendly people, who are passionate about their job and really interested in your vacation. They want to know what you have done in Hawaii to pass along great advice and tips to others. You don't see that anymore nowadays!
Thanks again Velma and Ernie for your kind gestures and great customer service. You two made a huge difference and you'll be sure you get great word of mouth from everyone who has dealt with you!"
Thanks, Philip Ma from Richmond, BC
Wiki Wiki Park n Shuttle is pleased to announce that the scale arrived this week! No more embarrassing moments at the Bellingham International Airport for anyone when they park with Wiki Wiki park n Shuttle prior to their Hawaii or Las Vegas vacation.
Ernie and Velma recognize that these are the small details that can mean SO much to help maintain trouble-free traveling. Ernie and Velma's goal is to provide "personal customer service, care and attention" For them, it means friendly service with a smile, and offering that added special touch.
About Wiki Wiki Park n Shuttle; Once Alaska Airlines announced direct flights to Honolulu from the Bellingham International Airport in the beginning of this year, Ernie and Velma Henken decided this was a good time to introduce Bellingham airport parking, a new off-site parking with a tropical theme and cater to such travelers. From their own experience of traveling, the where to find parking, how to get luggage from point A to point B, deal with traffic and uncertainties, all can make traveling hard work. Plus, IF you find yourself running late, be sure and call ahead to inform Wiki Wiki as they can save you a lot of time by having the motor running as soon as you arrive and drop you immediately to the departure gate. In fact there have been a few Mai Tai hand-offs done this way! Wiki Wiki Park n Shuttle's goal is to take stress away and offer a relaxed atmosphere with added fun and laughter. Ladies receive a silk lei and everyone is offered a family-friendly Hawaiian Mai Tai beverage as Ernie shares a few folklore stories. Once travelers board the Wiki Wiki Shuttle, they are serenaded with Hawaiian music right to the departure curb at the airport. Upon the traveler's return, the Wiki Wiki Shuttle is waiting curbside waiting to hear of the recent vacation highlights. Once back at the parking facility approximately 3 miles distance on the frontage road of the Interstate 5, fresh Kona coffee is offered as well as hot chocolate to help warm up and wake up the overnight flyers. Everyone leaves with a bottle of water to help keep the hydration up while heading home.
Offering good old fashioned service and fun is what sets Wiki Wiki Park n Shuttle apart.
Wiki Wiki Park n Shuttle LLC, established March 2011
4770 Pacific Hwy.
Bellingham, WA 98226
1.888.233.5523
wikiwikiparknshuttle.com
http://www.facebook.com/#!/WikiWikiParknShuttle
info(at)wikiwikiparknshuttle.com
Owners; Ernie & Velma Henken
###