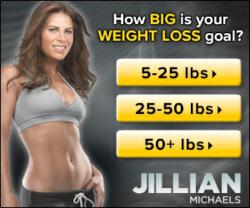 (PRWEB) June 26, 2011
MyReviewsNow is pleased to announce a new affiliation with the Jillian Michaels Fitness Program. The program assists subscribers with sensible weight loss. Although clients may have had difficulties with other weight loss plans, Jillian's program has helped thousands of people lose stubborn pounds.
Subscribers to Jillian's program can sign up for a free weight loss plan. Clients simply answer a few questions about their fitness goals, and a weight loss plan is tailored to fit their body. Individualized weight loss plans increase the chances that a person will be able to permanently lose weight.
Jillian Michaels works as a fitness trainer, life coach, and wellness expert. She has appeared regularly on TV and also hosts her own fitness shows. Jillian's fitness empire includes guest appearances in various media, motivational aids, and weight loss products.
Although other weight management gurus have questionable credentials, Jillian holds personal training certifications from the Aerobics and Fitness Association of America and the National Exercise & Sports Trainers Association. Her previous work experience includes 19 years as a personal trainer.
The Jillian Michaels Fitness Program was inspired by Jillian's own struggle with her weight as a child and teenager. She was significantly overweight as a child, but Jillian lost the pounds after making changes to her diet and exercise routine. She maintains her weight today through a careful diet and strict exercise plan.
Jillian's program has helped subscribers lose more than 1,488,000 pounds. The lost pounds have drastically improved clients' appearance, health, and self-esteem. The number is growing daily, and it does not include the pounds lost by people who only buy Jillian's products without subscribing.
The program works by adapting nutrition guidelines to each subscriber's body type, encouraging subscribers to complete specific exercises, and providing tough motivation straight from Jillian. Subscribers can find step-by-step instructions that explain how to make positive lifestyle changes.
Subscribers can access interactive tools that respond to their needs. The tools include a calorie calculator, fitness videos, and the Weight-Loss Buddies program. The Ultimate Menu Guide and the calorie calculator show subscribers exactly how many calories they're consuming and what could be removed from their current diet. The Ultimate Menu Guide also helps subscribers plan and create healthy meals.
Message boards and the Weight-Loss Buddies program allow subscribers to reach out to other people who are in their situation. Losing significant amounts of weight can take time, and many subscribers need support from other people to stay on track.
The tools include 151 printable exercises to keep subscribers from falling into a routine and becoming bored with their exercises. The 151 exercises are designed to gradually improve a subscriber's agility, flexibility, and stamina without injury. Each of the exercises is clearly explained and shown with pictures.
The interactive tools have been approved or used by Jillian herself as she continues to work hard to maintain her body. Because hunger may strike at any time, all of the tools are available around the clock.
Jillian has a range of other products for people who want to lose weight. Because everyone responds to different types of information, Jillian has created books, DVDs, and other products about weight loss. Traditional aids like books and DVDs are suitable for a client of any age.
Mobile phone apps and a regular podcast may work best for clients with long work hours or young children. Children with weight issues can use Jillian's games for the Nintendo Wii. Some of Jillian's products are even available in Spanish. Every prospective client can immediately begin losing weight with a product that fits his or her budgetary limitations, native language, and time constraints.
# # #