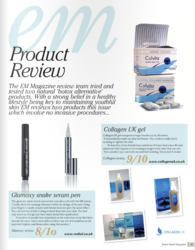 At least five of my friends have asked me if I have had a face lift and why I look younger every time they see me. For a product you can both feel and see working, this is real, it works!
South Shields, Tyne & Wear (PRWEB UK) 27 June 2011
A recent product review by Every Model Magazine titled the 'Natural Botox Alternative' found Collagen UK's collagen gel to be a fantastic 9/10 with EMM testers with one tester stating "For a product you can both see and feel working, this is real, it works!". The results of the test can be found in the Summer edition of Every Model Magazine on page 25.
In February this year Collagen UK were asked if they could donate product samples to the EMM team in order to be reviewed for their upcoming Summer edition. The review would be looking at natural alternatives to botox treatment. The editors at EM Magazine have been on a mission to promote natural products and non-invasive treatments to all readers as they believe a healthy lifestyle is the key to maintaining healthy skin, something they want models around the country to embrace.
One of the main founding principles behind Collagen UK was to change the stigma attached to collagen and prove that collagen isn't something to be feared (or injected) and there are natural alternatives that can produce the same effects without lasting damage. We felt a review by an authority such as Every Model Magazine would help us spread the word and get more people interested in the alternative uses of collagen.
We were very excited and proud to see that the EMM testers enjoyed the benefits of using our collagen gel, something emphasised by the Director of Collagen UK, Katarzyna Romanowska who stated "This is great news, it is excellent to see users reaping the rewards from using our products. We hope this creates a buzz across the modelling industry and shows people that there are alternatives to botox and drastic surgery. Being beautiful and looking younger doesn't have to be dangerous!"
# # #