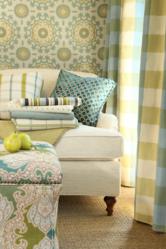 Selection increases significantly with addition of 1,700 fabrics in Robert Allen for Calico Corners – Calico Home retail program
(PRWEB) June 29, 2011
In the first co-branded program of its kind, the Calico Corners – Calico Home stores are adding 1,700 new fabrics to their assortment, all from the Robert Allen Group. In this new collaboration, special Robert Allen for Calico Corners-Calico Home collections have been created for the 85 Calico stores that will introduce these fabrics from June through August in company-owned locations across the country. The fabrics will also be available online at http://www.CalicoCorners.com.
"Robert Allen fabrics are requested more than any other by our customers," noted Calico Merchandise Manager Lori Cropp. "They have a great reputation for color—and their design team did an outstanding job creating a program both inspiring and useful. Our customers are very design savvy and need a deep assortment to help them get the exact custom look they're after. This program will help us achieve that, and it's a perfect fit for our stores."
The initial books are arriving in late June and the program will total 23 books when complete. The assortments will be grouped by color or by purpose, such as fabrics suited for upholstery or sheers for curtains.
"These collections of Robert Allen fabrics will further enhance our position as a design resource to customers throughout the United States," noted Roy Simpson, Jr., president and CEO of Calico Corners – Calico Home. "This will give our customers more than 7,000 fabrics to choose from for window treatments, upholstery, slipcovers, pillows, tableskirts and custom bedding. The selection was designed to provide greater depth in our offering without being overwhelming," he added.
About Calico Corners
Calico Corners – Calico Home stores provide expert decorating advice and free in-home design consultation in more than 95 stores across the country. Consumers will find thousands of designer fabrics for the home at value prices; custom window treatments, blinds and shades; custom upholstered furniture, slipcovers, bedding and more. Thousands of fabrics are available online. For more information or to find the nearest store, visit http://www.CalicoCorners.com or call (800) 213-6366.
About The Robert Allen Group
The Robert Allen Group is the nation's leading designer and marketer of decorative fabrics and furnishings to the interior design trade. The company sells its products under the Beacon Hill, Robert Allen, Robert Allen Contract and Robert Allen @ Home brands. The company has showroom locations throughout the United States, Canada and the United Kingdom, and an extensive worldwide agent showroom network. http://www.robertallendesign.com.
###