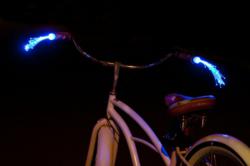 San Diego, CA (PRWEB) June 28, 2011
Luminence, an innovative developer of fiberoptic accessories, is proud to introduce Handlebeams fiberoptic bike handle streamers. Women and children of all ages love to light up their bikes with Handlebeams, colorful streams of light that add fun and excitement to twilight and nighttime rides, light parades, festivals and more. Handlebeams also attach to kick scooters.
Handlebeams are available in light colors blue, pink and rainbow, which cycles through all the colors of the rainbow. Green and red Handlebeams will be available by the end of 2011.
"Handlebeams easily attach to nearly any bike" says Chris Bonang, President of Luminence. "They insert into traditional bike handlegrips with holes on the ends, and adapters are included for bikes and scooters with solid handlegrip end caps."
Completely lead-free, Handlebeams are CPSIA (Consumer Product Safety Improvement Act) certified, and so are totally safe for children under 13.
Available as of June 2011, Hanldebeams can be purchased wholesale online at http://www.handlebeams.com. Retail Handlebeams will soon be available at local bike shops, and at various national and online retailers.
For more information about Handlebeams or other Luminence products, including our very popular Glowbys fiberoptic hair lights, visit our wholesale website http://www.luminence.us. Look for other new and exciting fiberoptic products to be released from Luminence in late 2011 and 2012.
###