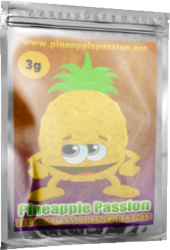 This blend is legal in all Australian states and worldwide.
Sydney, Australia (PRWEB) June 27, 2011
The company behind Pineapple Passion has been creating herbal smoking blends for the past 5 years. It has taken Pineapple Enterprises (the company behind this blend) this long to perfect their newest creation, Pineapple Passion. Pineapple Enterprises have now stopped creating for other companies, and have decided to release their product direct to the public. Pineapple Passion contains a blend of 100% Australian grown herbs and herbal extracts to give a feeling of relaxation that has never been experienced before.
One of the only products legal in Australia and every state in The United States of America, Pineapple Passion have surely done their homework when it comes to the law. "Our company have formulated a blend that is legal worldwide, selling and using this product does not fall under any analogue act that Pineapple Enterprises can find," states company representative Gary Blackwell. "Not only this, but if any company decide to implement drug tests which detect banned research chemicals such as JWH 018 (now banned worldwide) or anything similar, our product will pass with flying colors as it contains nothing like the JWH series of research chemicals". After a lengthy discussion about the can's and cannot's within this grey market industry, the conclusion was made that this product is truly unique as it does not contain any illegal substances whatsoever.
If the customer has never smoked a herbal blend before, it doesn't matter. Although this product is one of the strongest on the market; the user will not get to a state of anxiety ridden fear (like some other brands have caused). If the consumer inhales too much, it will put them in a state of total relaxation and they will end up sleeping off the effects. Pineapple Passion, is a unique product, which can be enjoyed by individuals from all walks of life.
Not only is it one of the most pleasant varieties available today, it is also one of the cheapest. After a lengthy search on and offline, this reporter could not find a similar product to be as good value for money. Considering the product is manufactured in a factory, designed for making this kind of product, one would assume a high price would be charged. Not so. For a 3 gram pouch of this incredible herbal incense, it will only cost the consumer $39.99. One of the cheapest prices we have ever seen for such a quality product.
In a nut shell, Pineapple Passion, have created a legal high, which will enlighten the soul and release the inner peace you have been longing for. Not only is it legal and enjoyable, it is one of the greatest tasting smoking blends available on the market today.
For more information, please contact myself on this press release or email sales(at)pineapplepassion(dot)net. They ship worldwide and can cater for any size order.
# # #