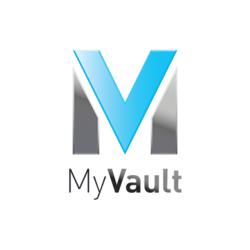 My Vault® is different since the company focus is on storing select digital assets and not on the mass storage and synching of all kinds of digital junk
Chicago, IL (PRWEB) June 28, 2011
My Vault®, built for the secure storage of select important private documents, today announced the company expanded storage plan choices to accommodate low and high volume gigabyte users.
The average small business and individual online storage user wanting to safeguard a variety of select private documents online use up to 25GB of space for select storage, which is a lot of space considering that it is estimated that 25 GB's can store approximately 2500 documents, 4000 photos, 4000 songs, 5000 video's or any combination thereof.
According to Cornelis de Jong, President and Chief Operating Officer of My Vault®, "Businesses and individuals who need private secure selective storage simply do not care about large online back-up and per-computer-backed-up file-duplication services designed to sync computers. For them it's about personal secure storage and having a trusted source and go-to place that can accommodate their smaller select document storage needs. These select storage users also have little interest in learning or downloading complex software solutions in the hope to master the basics for their select storage needs." In response to this need, My Vault® created its original 2GB storage plan for $1.99.
While 2GB to 25GB use is the more common select storage plan range for My Vault®, and while the company has a 50GB storage plan allowing up-to 50GB in storage, there are a few select storage users who have a need to securely store over 50 GB of space which the company has not appropriately accommodated before. In addition to their standard plans, My Vault® now also offers 50GB-Plus plans that once a standard up-to 50GB plan is purchased, users can upgrade to 50GB-Plus plans in increments of 10GBs up to 100GB's. 50GB-Plus plans are only available to a user after a standard 50GB plan purchase to ensure users do not overbuy space.
What is interesting about My Vault®, and rather unusual in the industry, is that they actually caution users on buying too much space upfront and not using it.
"So many people have no idea how much you can truly store in 50GB of space" said de Jong. "That's why we've come up with our new My Vault® pricing plans and related storage tips to help users understand how much space they potentially need. Imagine renting an oversized storage room where your small pile of personal documents or legal papers lie in the middle of the room in a box, it would seem silly to do so, right? Likewise there simply is no need for a small business or individual who stores as much as several thousand documents to have a 50GB storage space, why buy excessive space you don't need; you can always upgrade when you the need space."
It is not common for companies to actively discourage their consumers from spending money or uploading too many files, but My Vault® firmly believes in secure storage solution for select private documents, not mass duplication of user hard drives.
According to David Thompson, CEO at My Vault®, "the problem with mass duplication of your hard drive is that the same unorganized mess that sits on your home or business computer gets synched and backed-up as an unorganized mess. My Vault® is different since the company focus is on storing select digital assets and not on the mass storage and synching of all kinds of digital junk." With My Vault® digital asset management is easy since business and individual users can store private select files and information in a secure environment and have the ability to easily organize, sort, label and tag the select files stored.
My Vault ® is the online digital safety deposit box for secure storage of select important private business and personal documents and the digital asset management thereof. The My Vault® website, http://www.myvaultstorage.com, is designed for the safe storage of these important personal and business documents and data, offering users of the site a protected, securely accessible, online storage vault. Stored Information doesn't get shared, distributed, viewed, copied, or monitored by any third party within the bounds of the law.
# # #