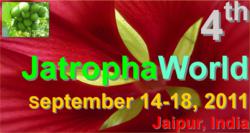 concurrent sessions on topics High Powered Energy Crops- such as Jatropha, Algae, Castor, Pongamia, Moringa, Simarouba, Jojoba, possible yields, horticulture, Plant Science ; Genetic , economic and business aspects
Jaipur, India (PRWEB) June 27, 2011
The Center For Jatropha Promotion & Biodiesel (CJP) has designed & dedicated the 4th Global Jatropha Hi-tech Integrated Nonfood Biodiesel Farming & Technology Training Programme, to educate all stakeholders about critical issue of availability of right feedstock at right cost to make biodiesel a long-term business opportunity.
Like food, air, and water, energy is essential to human existence. The hopes of billions for a better life depend on plentiful and accessible sources of energy. But with the world's population fast approaching eight billion, how do we meet the growing demand for energy in a responsible, equitable, and sustainable way? It's a question we must ask ourselves as a society and as individuals. That's why CJP has the privilege to provide authoritative Global Knowledge Platform for a Sustainable Future for Development of Sustainable Non-Food Oil Crop Projects, Programmes and Priorities to Feed Biodiesel Industry Worldwide.
A 5 day 'one stop shop' assemble the various nonfood biofuel feedstocks value chain with featured discussion of new feedstocks and accelerate the commercialization of sustainable mobility. The Programe features 1st three days of concurrent sessions on topics High Powered Energy Crops- Overview of new high-yielding energy crops such as Jatropha, Algae, Castor, Pongamia, Moringa, Simarouba, Jojoba, and others - possible yields, cropping density, propagations, horticulture, Plant Science & Genetic Developments including sessions on the economic and business aspects of the biofuel business.The rest 2 days shall be dedicated Practical sessions on Plantation, oil extraction and biodiesel processing technology taking the learning beyond the air-conditioned comfort of the conference room, and out into the actual field where they were able to see, touch, feel and do Jatropha and other plants planting first-hand, making oil/biodiesel their self. The meeting is being held at Pink city Jaipur, India.
The 8-10 sessions shall be focused solely on Jatropha as an emerging energy crop; The Top renowned Jatropha scientists shall discuss major thrust areas—genetics, agronomics and horticulture practices— enhanced genetics, agronomics and horticulture sciences to drive new varieties, more knowledge around the plant's nutritional requirements and more science-based processes for the care and custody of the plant so the plant will grow with optimal productivity to achieve reliable and scalable results in Jatropha energy farming. They shall also discuss the need for universally-accepted industry standards for the development of this crop as well as the efforts to develop such activities in developing Jatropha varieties with improved oil yield per hectare to achieve three-fold goal of addressing "Energy, Economics and Execution" with clear focus on critical issues facing Jatropha role as a viable feedstock.
The CJP, a platform for multidisciplinary multifeedstocks research into all aspects of nonfood energy farming intensified its collaborative research approach with regards to perennial oil seeds bearing tree like Pongamia Pinnata, Moringa oliferia, Jojoba, simarouba, etc. in combination with annual nonfood oil crops. CJP's new Biodiesel crops are poised for commercialization as the newest, greatest biodiesel feedstock as these crops can produce the greatest amount of feedstock for the lowest input and cost. There are many promising crops on the horizon, but they need to be properly vetted scientifically. Good scientific research done by CJP's scientists' show how oilseed crops grow best across different soil conditions and climates, and how they fit into existing production systems determining what consequences might result from growing these crops in terms of sustainability.
The 4th Global Jatropha Hi-tech Integrated Nonfood Biodiesel Farming & Technology Training Programme is all set to introduce trainees the real world of JATROPHA CURCAS" where the attendees shall also have the opportunity to interact with these new crops science, agronomy and horticulture technology etc. as have also been included in the course. CJP has brought together the best expertise and brightest brains to discuss and analyze the present and future dynamics of nonfood biodiesel crops. Attendees will be able to increase their knowledge about Jatropha and other important nonfood biodiesel as referred herein from experts. To find out more about JATROPHAWORLD 2011 please visit http://www.jatrophabiodiesel.org
While agronomic work is an important first step in the development of any new crop, for new oilseeds to reach commercialization, several other factors need to be addressed. With any of these crops, there is definitely an education curve for producers to be able to understand how it fits into their rotation.Even a superior genotype variety planted in inadequate soil and improperly cared for, will be unable to reach its potential and will create dissatisfied stakeholders.The JatrophaWorld 2011 shall highlight that how scientific selection of site and superior seed strain can ensure a successful Fuel Farms. The invaluable insights provided by experts/scientists will help our trainees to better understand the sustainability of this potential jet fuel source.
The enhanced Biological input management system shall provide Crop revenues higher, Revitalizes the soil, Improves consistent crop quality, Reduces crop loss and above all :Reduce your Environmental Foot Print. CJP'S Next JATROPHAWORLD 2011 is set to introduce the impact of biological agri-inputs on growth and yields of Jatropha Curcas and other oil crops.
In the biofuels business, establishing the feedstocks for advanced biofuels is crucial for commercial development, given that the largest cost associated with production is for the feedstock. As such the 4th Global JatrophaWorld 2011 shall make Investors more comfortable and knowledgeable for second-generation nonfood biofuel feedstocks to select right feed stock with right technology that will be a make-or-break factor for the success of future second-gen biofuel. If they have a strong story and the right technology including a clear proof of concept, roadmap to profitability, strong strategic partners and adequate and inexpensive access to feedstock, there is definitely appetite out there and by attending the programme they can equip themselves to eliminate "some week elements in their business model just to ensure the Future path to profitability.
To create, build and succeed in the growing world of biodiesel one need complete and comprehensive knowledge of Plant Science, Plant Technology and Plant Economics and just registering yourself for the mega happenings in the Jatropha world, you can ensure the same as this is the only platform to understand & learn, to plan and execute, the best expertise to discuss and analyze the present and future dynamics of Jatropha, other nonfood oil crops
As seats are limited one can contact Director Training on tele +91 141 2335839 or mail to jatrophatraing(at)gmail(dot)com to sign up for the 4th Global JatrophaWorld training early and secure his/her place.
###