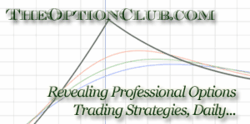 The mission of TheOptionClub.com is to provide honest and reliable information about options in a no-hype environment.
Santa Clarita, CA (PRWEB) June 28, 2011
TheOptionClub.com is in the process of releasing a new e-learning course designed to teach retail investors and traders stock option fundamentals as part of its Trading Room subscription service. The Options Foundations course is a high level training course intended to fill a gap in the market between very basic but incomplete explanations about the functioning of stock options and those courses and training programs costing many thousands of dollars.
Stock options offer the retail investor and trader the means to protect their investment capital, limit their trading risks, and take advantage of market opportunities without exposing themselves to significant loss of capital. The use of options in retail accounts can result in a measurable reduction in portfolio volatility and enhanced risk adjusted returns. However, options are complex derivative securities and can result in significant losses if the investor does not fully understand how they work.
Up until this point in time, the retail investor or trader who wanted to incorporate options into their portfolio and trading practices had a choice of wading through lengthy and difficult text books on the subject or investing several thousand dollars into a training program. This has left the necessary understanding and comprehension of options inaccessible to many who desire it. The result is that those unable or unwilling to access the information have either elected to employ options with an incomplete understanding of their functioning or have simply not used options.
As the Options Foundations Course is released it will provide the retail public with the opportunity to learn that information traditionally reserved for professional traders. The curriculum helps unlock the mysteries behind the option pricing formulas, the "Option Greeks," and the effects of volatility upon options. The objective is to provide students with a critical understanding of options so that they can independently evaluate and identify those option strategies most appropriate for their portfolio.
The initial modules of the course are now on-line with additional modules planned for release in the coming months. Those investors and traders interested in learning more are invited to visit http://www.theoptionclub.com/students/ where they can obtain information about the Options Foundations course as well as the other resources offered through TheOptionClub.com's Trading Room service.
About TheOptionClub.com:
TheOptionClub.com was founded in 2003 as an on-line options trading community and continues to serve that purpose today. Additional education, training and mentoring is provided through TheOptionClub.com's Trading Room where members enjoy weekly live on-line training events, access to a growing video and download library, a private member's support forum, and more.
Follow TheOptionClub.com on Twitter: twitter.com/theoptionclub
Follow TheOptionClub.com on YouTube: youtube.com/theoptionclub
###