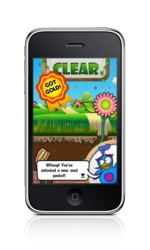 Edinburgh, United Kingdom (PRWEB UK) 28 June 2011
Twiddly has announced the launch of their brand new action puzzle game Tilt & Sprout for iPhone(R) and iPod touch(R). Tilt & Sprout is a colorful, fun-filled game where the player must grow seedlings from seed to flower through hazard strewn levels. The play controls are a simple tilt mechanic that is easy to pick up, but tricky to perfect.
Deep below the earth's surface dormant seeds wait to be awoken with a touch. It's the player's role to guide the sprouting seedling towards the earth's surface by tilting their iPhone/iPod Touch all the while planning their underground route to avoid rocks, pipes and even ancient dinosaur bones. On the way there are sparkling minerals to collect that boost the growth speed of the seedling. Increasing speed adds to the challenge, but all minerals need to be collected to blossom fully, ace the level, and earn a Gold Rosette.
The game ships with 24 challenging levels set across a variety of imaginative landscapes and is presented with adorable cartoon-style graphics to provide appeal to players of all ages. Future updates are already planned for Tilt & Sprout that will add more levels, more seeds and new features.
Tilt & Sprout is currently available at the special introductory price of only $0.99 USD (or equivalent amount in other currencies) exclusively through the App Store in the Games category.
###