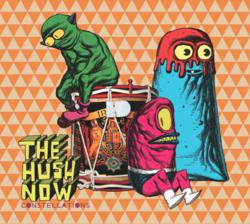 ...pure-pop heaven.
Boston, MA (PRWEB) June 28, 2011
Consisting of Noel Kelly (vocals/guitar), Adam Quane (lead guitar), Barry Marino (drums), and Pat MacDonald (bass), Constellations 2.0 is a powder-keg effort boasting soaring vocals over The Hush Now's unique melancholy AM Gold groove that pulses behind curtains of melodic guitar. The album also boasts a new dance remix of the U2/Cure-like thumper "Thorns" (Track 11).
Like The Hush Now's self-titled debut (Oct 2008), also produced by Mighty Lemon Drops alum David Newton, Constellations quickly climbed independent radio top 100 charts and drew comparisons to Guided By Voices, The Cure, and Kitchens of Distinction among others. Blog buzz and radio play by influential BBC 6 DJ Steve Lamacq and KROQ's Rodney Bingenheimer further fueled interest in the band.
And after the success of last Fall's EP, Shiver Me Starships, a successful national tour, and powerful performances at CMJ 2009/2010 and SXSW 2009, The Hush Now are ready to keep the momentum going. During the re-release of Constellations, the band is already hard at work on their next full-length, Memos, set for Fall 2011 release.
The Hush Now will re-release Constellations on June 21st. Please go to http://www.thehushnow.com for more updates.
###